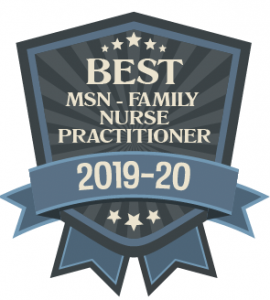 Becoming a family nurse practitioner can be as much of a calling as it is a profession. As a registered nurse with the highest degree of training combined with direct experience in the practice of family medicine you will experience some of the most intimate, rewarding, and challenging work in the entire scope of advanced practice nursing.
When you're the kind of person who is drawn to such work, to the difficulties and rewards of working with individuals and families in their hours of need, it's easy to forget that there are some serious monetary obstacles you're going to need to clear to get into the profession in the first place.
Becoming a family nurse practitioner means earning at least a master's degree, over and above what it took you just to become a registered nurse. According to U.S. News & World Report, the cost of a Master of Science in Nursing is typically within the range of $35,000 and $65,000, with some considerably higher… not to mention the time it takes to go to school and the impact that may have on your ability to work and earn an income while you're doing it.
All of this adds up to the fact that it is really important to find an affordable program to enroll in.
<!- mfunc search_box_body ->
<!- /mfunc search_box_body ->
<!- mfunc feat_school ->
---
---
A Valuable Education Doesn't Have to Cost a Lot of Money
By the most recent count there are 328 accredited MSN-FNP programs nationwide. With that big of a haystack it's hard to know where to start looking for the needle, so we've made it easy for you. We've analyzed every one of these schools, and the first filter we started with was quality.
Fortunately, there are a lot of hidden gems out there in the MSN department. What you are looking for isn't a program that is cheap; it's a program that is valuable: one that offers the best possible education for the money.
We did the work required to help you find exactly those programs, ensuring quality is given as much attention as cost to ensure that what you find here are only MSN programs that offer an exceptional value.
<!- mfunc search_btn -> <!- /mfunc search_btn ->
Every one of our selections are accredited by the Commission on Collegiate Nursing Education (CCNE) or the Accreditation Commission for Education in Nursing (ACEN). In fact, we believe so completely in the importance of attending a program that teaches to the highest and most contemporary standards, we only compared price points among this elite class of programs, and ignored the rest.
These two commissions use stringent evaluation processes to investigate nursing master's programs and assess them according to rigorous, industry-driven criteria. Reviewing curriculum and instructor credentials, and through on-site visits and observation, accreditors look at things like industry partnerships, faculty selection and training, record-keeping, and even complaint processes and appeals with an eye on how well the school supports a completely student-centered learning experience that delivers results.
Only the highest quality programs that meet all of the relevant standards receive accreditation, a process that can take years to achieve.
How We Selected The Most Affordable Programs In Every State
To solve that "affordability + quality = value" equation, we only looked at fully accredited MSN-FNP programs within each state in making side-by-side comparisons of total tuition cost. Although we also list them here with cost-per-credit figures, we decided on a more apples-to-apples comparison, so total tuition costs were the final deciding factor for which schools made the list.
We also were careful to only compare public schools to public schools and private schools to private schools. There can be considerable differences in the cost structure by institution type, and you may have preferences about what type of school you prefer to attend (if you're out-of-state or an international student, for example, private schools may be more attractive because they tend not to charge differential tuition, and often offer the best deal).
What you'll find here is a list that includes the single most affordable public and private MSN-FNP program in every state where each is available. In states that only have one type, we listed only that school.
And it's not just a boring list of links, either. We know that what is valuable to you may not be valuable to the next student. So we tell you a little bit about each program, the high points that are likely to catch your interest, the special features that you might not find anywhere else. We'll tell you if it has flexible scheduling, online study options, or special exam prep offerings, for example. Where the information is available, we tell you about job placement rates and FNP certification exam first-time pass rates, which are definitely a valuable feature!
Ultimately, the choice about what MSN-FNP program offers you the most value comes down to you. But our select list will start you off on the right path to becoming a successful FNP without breaking the bank!
State by State: Best Value MSN-FNP Programs in the U.S. for 2023
No CCNE or AACN-Accredited MSN-FNP programs currently offered

No CCNE or AACN-Accredited MSN-FNP programs currently offered
No CCNE or AACN-Accredited MSN-FNP programs currently offered