<!- mfunc feat_school ->
Featured Programs:
Sponsored School(s)
Sponsored School(s)
All school search, finder, or match results, as well as colleges and universities displayed as "Featured School(s)" or "Sponsored Content" are advertisers that compensate us for placement on this site. The resources, editorial content, and school evaluations published on this site are developed independent of the schools that advertise here.
<!- /mfunc feat_school ->
Advanced practice registered nurses (APRNs) reflect the future of American healthcare. Starting down the career path in one of the four APRN roles (Nurse Practitioner, Clinical Nurse Specialist, Certified Nurse-midwife, or Certified Nurse Anesthetist) will put you at the forefront of expanding and increasingly important segment of the nursing workforce.
APRNs, doctors, and physician's assistants are all similarly capable of performing many of the same technical functions, including ordering and interpreting diagnostic tests, starting and removing lines, and administering various therapies. To the layman observer, a typical working day for any of the three might look pretty much the same.
The primary difference lies in the conceptual approaches they take in providing those treatments. PAs and doctors are trained to use the medical model, a systemic and disease-oriented approach. Nurses, however, are trained in the nursing model, a more holistic approach to delivering care that takes cultural, individual, and symptomatic considerations into account when creating treatment plans.
The exact practices and authority given to APRNs is determined by the scope of practice (SOP) laws in each state. For many years, the default approach to the expanded SOP APRNs have as compared to RNs and other nurses was the collaborative agreement system, which requires APRNs to enter into a supervised relationship with a doctor of medicine. This agreement effectively expanded the decision-making and practical authority of the APRN, often allowing them to prescribe medication and diagnose illnesses.
But new changes in healthcare system economics and new legislation driven by the National Council of State Boards of Nursing's Consensus Model Act for APRNs is expanding SOP rules in every state and giving APRNs more independent decision-making and prescriptive authority than ever, often eliminating the need for any kind of collaborative agreement.
Some surveys show that APRNs have significantly higher job satisfaction rates than physicians, not to mention RNs, who can be so disaffected and burned out that the National Institutes of Health has taken to performing in-depth studies on the problem.
APRNs always have choices, from settling down as the primary care provider in a rural community and being the medical resource of choice for generations of the same families, to going into travel nursing and seeing the world. Demand for all four APRN roles is strong and increasing—the Bureau of Labor Statistics puts the growth rate for the next decade for the field as a whole at 31 percent.
Certified Nurse Practitioners (CNP) – Helping to Resolve Many of the Biggest Issues Affecting Healthcare in the US
Certified nurse practitioners (CNPs) are leading the movement to reduce the cost of health care and the strain placed on the healthcare system by serving as primary care providers to patients of all ages in a wide range of medical settings. Focusing on individualized care, CNPs use skills developed through advanced education and experience to treat both mental and physical issues.
Nurse practitioners represent the biggest segment of advanced practice nurses and the one expected to be most in demand in the near future. A confluence of trends has put the nurse practitioner role squarely in the spotlight for 21st Century healthcare services:
The NP role is prevalent in primary care, which is currently seeing extreme shortages of providers, with 3,500 NPs entering the field in primary care roles in 2015 compared to just 144 new physicians
NPs also have a strong presence in outpatient clinics, which are expected to see increasing demand in the future.
Underserved and rural areas have a growing need for general primary care providers, a good fit with the NP role.
Retirements in the academic community are fueling demand for highly trained nurse practitioners to fill faculty positions.
Because NPs are needed in each of the six defined population focus areas (Family, Adult-Gerontology, Women's Health, Pediatrics, Mental Health, and Neonatology), and can further specialize within these focus areas (acute care, primary care, emergency medicine, cardio-pulmonary, and many more), they have an enormous range of options for career paths. The 2017 U.S. News and World Report annual job rankings list rates nurse practitioners as having the second best job in the country.
One of the appealing aspects of a career as a nurse practitioner is the potential to be constantly challenged by new and interesting cases. An NP working in emergency medicine, for example, might start the day diagnosing an elderly woman with chest pains and end up suturing together a young man after an automobile accident. A pediatrics primary care NP might have a well-child check on a 20-month old infant and later do a sports physical work-up on a 16-year-old athlete.
Certified nurse practitioners are licensed as general practitioners specific to a particular patient population and can further specialize by setting, type of care, and type of medical disorder.  Read more…
Certified Nurse Midwife (CNM) – Promoting Evidence Based Care for Women and Infants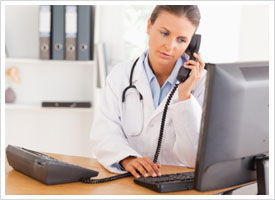 In recent decades, thinking about pregnancy and the birthing process has shifted from being identified as highly medicalized, to being viewed as something that requires facilitation more so than intervention. Expectant mothers are now more often interested in partnering with medical professionals to enjoy a more whole-person approach to care while pregnant, during the birthing experience, after delivery, and throughout the lifespan. With the knowledge that pregnancy and childbearing are natural life processes, CNMs monitor the well-being of pregnant women through all stages of pregnancy, childbearing, and post-pregnancy in an effort to minimize invasive intervention.
<!- mfunc search_btn -> <!- /mfunc search_btn ->
The role of mid-wife is one of the oldest under the APRN banner, filling a need more ancient and elemental than any other: bringing life into the world.
Along the way, CNMs have developed expertise in caring for women at all ages and stages of life, from pre-natal, parinatal and postpartum care to post-menopausal care. They may also care for male partners suffering from sexually-transmitted diseases.
CNMs may practice in homes or birthing centers but most are employed and work in hospitals as part of a larger medical care team, bringing their particular expertise and vision of minimal intervention in the birthing process.
Although CNMs seek to facilitate birth rather than treat pregnancy as a medical case, they are entirely capable of bringing the full force of modern medicine into service to protect and improve the lives of child and mother. CNMs often serve as first assists in Caesarean section births and, in the 21 states where they have independent prescriptive authority, can pop in an epidural or other pain medication as soon as it becomes medically necessary.
Because the birth process rarely adheres to a strict schedule, many CNMs carry beepers and can expect to be called in at odd hours to work with their patients. Although most of them also keep regular office hours, an inherent flexibility in the role also means they enjoy a degree of freedom at work that is unusual in modern jobs. A CNM called out at 2 a.m. to assist in a difficult birth might take most of the next day to sleep in, run errands, or otherwise keep their work/life balance centered.
Although the birth rate in the United States has fallen, in 2016, to the lowest level ever, with only 12.9 births per 1,000 people, job growth projections for CNMs remain strong—at 29 percent over the next decade, they are the second fastest growing APRN segment behind NPs.
CNMs are deeply committed to understanding the unique life experiences and cultural influences that come to bear on each individual in their care, using this understanding as a way to facilitate a positive birth experience for expectant mothers from all walks of life. CNMs can practice in any number of medical settings, including hospitals, private birthing centers and in the home, offering an intervention-free delivery when possible, and advanced interventions when needed.  Read more…
Certified Registered Nurse Anesthetist (CRNA) – A Solution to the Demand for Anesthesia Specialists
Certified registered nurse anesthetists (CRNAs) enjoy some of the highest salaries available to advance practice registered nurses, and also occupy a position that earns them a lot of respect in the medical community. They are capable of delivering anesthesia using the same methods and in the same situations as physicians who specialize as anesthesiologists. This fact makes CRNAs particularly important in the effort to reduce soaring medical costs while ensuring quality care.
CRNAs come in at number 6 on U.S. News and World Report's 2017 Best Jobs list, and many CRNAs would argue that it should be higher. As specialists who hold a great deal of responsibility and prominence, nurse anesthetists have good reason to be satisfied with their work.
According to the NCSBN, as of 2013, CRNAs represented the second largest contingent in advanced practice nursing, with almost 50,000 active licensees. CRNAs are also some of the most highly compensated, with a mean salary in 2015 of more than $160,000.
The pay is no accident, since CRNAs routinely hold lives in their hands. The process of inducing general anesthesia is a short step on the path to systemic shutdown, and careful balance and constant monitoring is required to keep patients in the halfway house between life and death. Even when working with local anesthetics, CRNAs have to carefully monitor patients for allergic or toxic reactions. Something as minor as the presence of latex in an injector cartridge can cause a reaction.
Much of the education and training CRNAs have revolves around the drugs and procedures for safely administering them. Being aware of alternatives and the benefits and drawbacks of various anesthetics is job one for CRNAs.
<!- mfunc search_btn -> <!- /mfunc search_btn ->
Certified registered nurse anesthetist is one of the oldest APRN roles. They are found throughout the healthcare system, primarily in outpatient surgical clinics and hospital surgical units, and are helping to fill the need for anesthetic care in medically underserved areas. According to the American Association of Nurse Anesthetists (AANA), CRNAs are the sole anesthesia providers for rural hospitals in some states.
CRNAs have to have an excellent memory, good math skills, and be able to make snap decisions. Cases they work with can be long and uneventful surgeries, or fast-paced, high-stress emergencies involving screaming trauma patients and demanding physicians. Most CRNAs find the technical aspects of preparing and administering drugs interesting, and encounter just enough adrenaline-pumping contingencies in the course of the average week to keep the routine aspects of the job from becoming mundane. The CRNA track is one of the most intensive and professionally rewarding paths prospective advance practice registered nurses can undertake.  Read more…
Clinical Nurse Specialist (CNS) – Bringing Advanced Expertise and Positive Change to the Clinical Environment
One of the most important shifts emerging in healthcare is the reliance on highly skilled advance practice nurses to administer direct patient care while contributing to research and patient advocacy. For this reason, clinical nurse specialists occupy one of the most dynamic and involved positions in the healthcare system. Tasked with providing a bridge between direct patient care and the application of theory-based research, CSNs work to ensure positive patient outcomes while shaping the nursing profession by serving as mentors to fellow nurses and agents of change.
A CNS often functions as the go-to subject matter expert for other nursing professionals within the practice area. With a minimum of a master's degree in their field and usually a great depth of practical clinical experience, CNSs often end up in advisory or managerial roles where they offer guidance to other nurses.
All CNSs are responsible for working across three spheres of influence in the care system:
Patient/client sphere, defined as direct care and interaction with the patient
Nursing sphere, the mentoring of fellow nurses and establishment of evidence-based practices
System/organizational sphere, focusing on the cost/benefits of medical interventions
They may work primarily to educate patients, other nurses, or even other medical professionals, or go into case management where they would review case files and identify opportunities to improve patient outcomes and reduce costs.
Similar to NPs, they serve as generalists but are certified within a particular specialty area defined by:
Disease or medical specialty (oncology, diabetes, etc.)
Population (children, seniors, women, etc.)
Setting (critical care, emergency room, etc.)
Type of care (rehabilitation, mental health, etc.)
Type of problem (pain, eating disorders, etc.)
The requirement for population focus area certification in state's that have adopted NCSBN's APRN Consensus Model has proven challenging for CNSs since they previously had defined areas of focus that didn't align exactly with those in the Consensus Model. The National Association of Clinical Nurse Specialists (NACNS) is working closely with state licensing boards and the NCSBN to ensure that Model implementation respects both current CNS positions and education programs that have CNS students in the pipeline.
Education is not only a responsibility but a part of the avocation of the CNS. They are expected to continue learning throughout their careers to stay on the leading edge of their speciality areas. Many CNSs identify this learning process as one of the highlights of their job. CNSs are positioned through their roles as provider, mentor, and advocate to have an enormous impact on the future of healthcare reform and patient care. Read more… 
<!- mfunc feat_school ->
Featured Programs:
Sponsored School(s)
Sponsored School(s)
All school search, finder, or match results, as well as colleges and universities displayed as "Featured School(s)" or "Sponsored Content" are advertisers that compensate us for placement on this site. The resources, editorial content, and school evaluations published on this site are developed independent of the schools that advertise here.

<!- /mfunc feat_school ->