Family nurse practitioners (FNP) are advanced practice registered nurses who work autonomously or in collaboration with other healthcare professionals to deliver family-focused care. Given the rather broad nature of the "family" patient population focus, FNPs offer a wide range of healthcare services that revolve around the family unit; from health promotion and disease prevention to direct care and counseling across the lifespan.
Because FNPs possess a graduate-level education, as well as clinical training in family medicine, they are qualified to diagnosis and treat complex health conditions of the body and mind. Their advanced training and education also often qualifies FNPs to serve as hospital and clinic administrators and policy makers.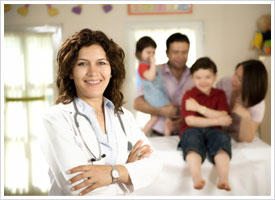 FNPs may work in a variety of settings, including conventional doctor's offices, clinics, private homes, schools, or hospitals. Family nurse practitioners place a strong emphasis on wellness and prevention, but also provide treatment for everything from mild ailments to serious conditions affecting any member of the family, from children to grandparents. An FNP can be expected to perform duties that include:
Developing treatment plans for acute and chronic diseases
Educating and guiding patients on disease prevention and healthy lifestyle habits
Understanding the changes in health promotion throughout the aging process
Conducting exams
Performing diagnostic tests and screening evaluations
Managing overall patient care regarding lifestyle and development issues
Emphasizing preventative care and disease management
Prescribing medications
---
---
Education and Degree Program Options
Becoming an FNP involves first passing the NCLEX-RN exam and becoming a licensed RN. Crucial experience is gained in the years spent working as a registered nurse. From there, most FNP aspirants work toward a Master's Degree in Nursing (MSN) with a concentration in family practice, a post graduate degree specific to FNP preparation, or a Doctor of Nursing Practice (DNP).
Often, registered nurses complete a general graduate degree in nursing and then go on to complete a post-graduate certificate program for family nurse practitioners. Many would-be FNPs choose to center their master's education on an FNP specialization. Subspecialties available to FNPs include:
Medical-Surgical
Cardiac
Endocrine/Diabetes
Renal/Urology
Perinatal
Long-Term Care
Orthopedics
Rehabilitation
Pulmonary
Pediatrics
Gerontology
ER/Trauma
Post-Partum
Psychiatric
Critical Care
Family nurse practitioner graduate and post-graduate programs combine didactic learning with clinical experience that places a heavy emphasis on mastering advanced clinical skills. In addition to foundational courses in advanced health assessment, pathophysiology, and pharmacology, would-be FNPs can also expect to take courses that cover:
Nursing research methods
Adult and geriatric care
Family/lifespan nursing theory
Family/lifespan nursing care
Management of acute and chronic illnesses
Socio-cultural issues
Dynamics of family health care
Family counseling
National FNP Certification
Upon completion of a graduate or post-graduate program, graduates are eligible for national certification. Most FNP programs are developed to meet current national standards for FNP certification. Most states require a national certification for FNP licensure, although not all states recognize the same national certifying bodies. It is important that licensure candidates verify with their state's Board of Nursing beforehand which national certifying bodies are recognized.
The American Nurses Credentialing Center (ANCC), a subsidiary of the American Nurses Association, offers the FNP-BC primary care certification. To qualify for this certification, applicants must hold a current and active RN license and a master's, post-graduate, or doctorate degree from an FNP program accredited by the Commission on Collegiate Nursing Education (CCNE) or the National League for Nursing Accrediting Commission (NLNAC). Applicants must complete a minimum of 500 faculty-supervised clinical hours within their FNP program to be eligible for certification. In addition, the FNP program must include content in health promotion and disease prevention, and differential diagnosis and disease management, as well as coursework across the lifespan in three, separate courses:
Advanced physical/health assessment
Advanced pharmacology
Advanced pathophysiology
After applying for certification, all applicants have up to 90 days to take the exam through a local Prometric Testing Center. Recertification takes place every 5 years and requires meeting specific clinical practice and continuing education requirements.
Other specialty certifications offered by the ANCC that family nurse practitioners may elect to earn include:
Acute Care Nurse Practitioner
Adult Nurse Practitioner
Adult Psychiatric and Mental Health Nurse Practitioner
Diabetes Management – Advanced
Family Psych and Mental Health Nurse Practitioner
Pediatric Nurse Practitioner
School Nurse Practitioner
Gerontological Nurse Practitioner
The American Academy of Nurse Practitioners (AANP) also offers a national certification in family practice. To qualify for this certification, applicants must hold a current and active RN license and a master's, post-master's, or doctoral degree from an adult, gerontologic or family nurse practitioner program.
Applicants must provide documentation showing they've completed:
A minimum of 500 clinical clock hours of faculty-supervised practice
Courses in advanced physical assessment, advanced pharmacology, and advanced pathophysiology
Once an applicant applies to take the certification examination (applicants can request an application or apply online), they have 120 days to complete the test after they have received an Approval to Test date from Professional Examination Services. All appointments for testing must be made through Prometric Testing Center. Recertification is required every 5 years, and specific clinical practice and continuing education requirements must be met during each renewal cycle.
FNP Professional Organizations
Professional organizations often represent constituent and state nurses associations to raise standards of nursing, to promote the rights of nurses in the workplace, and to lobby Congress and other regulatory agencies on issues that affect both nursing professionals and the public. There are a number of professional organizations of which FNPs are often members:
FNP Salaries
According to the National Salary Report 2011 published by Advance for NPs and PAs, family nurse practitioners earned average salaries that differed based on subspecialty and setting:
Gerontology $94,485
Mental Health $92,396
HIV Clinic $89,506
Family Practice $89,317
Diabetes/ Endocrinology $88,397
Retail Clinic $96,800
The average hourly rate for FNPs in the above categories was between $40 and $62 an hour.
A 2011 survey of 3,812 NPs conducted by the American Academy of Nurse Practitioners showed that the average, full-time base salary for a nurse practitioner was $91,310, while the average, full-time base salary for an FNP was $96,910.
Average, full-time base salaries for NPs were further broken down in the survey by practice setting:
Private NP $111,750
Private Physician $95,680
Community Health Center $92,110
Rural Health Clinic $92,560
Hospital Outpatient Clinic $98,720
Occupational/Employee Health $99,030
Emergency Room/Urgent Care $115,070
In-Patient Hospital Unit $103,650
Veterans Admin Facility $111,110
State-by-State Directory of MSN-FNP Programs Accredited by ACEN and CCNE
We've compiled the following list of every ACEN and CCNE accredited school in the US that offers a master's-level Family Nurse Practitioner track. The list includes all master's programs with a family NP focus, including RN-to-MSN programs, associate's-and bachelor's-to-MSN programs for non nursing undergrads, post-graduate certificate programs, dual-specialization programs, and of course, traditional post BSN programs.
You'll also notice DNP programs with an FNP focus listed as a bonus at schools that already have a master's-level program. We include campus-based options, as well as online and hybrid programs consisting of both online and classroom-based components.
No MSN-FNP programs currently offered
No MSN-FNP programs currently offered
No MSN-FNP programs currently offered