A family nurse practitioner (FNP) is an advanced practice registered nurse with expert training in primary or specialty care for patients of all ages. In many states, they hold independent practice privileges which grants them prescriptive authority and allows them to treat patients on their own in hospitals, clinics, or private practices to serve as the primary healthcare provider for individuals and families.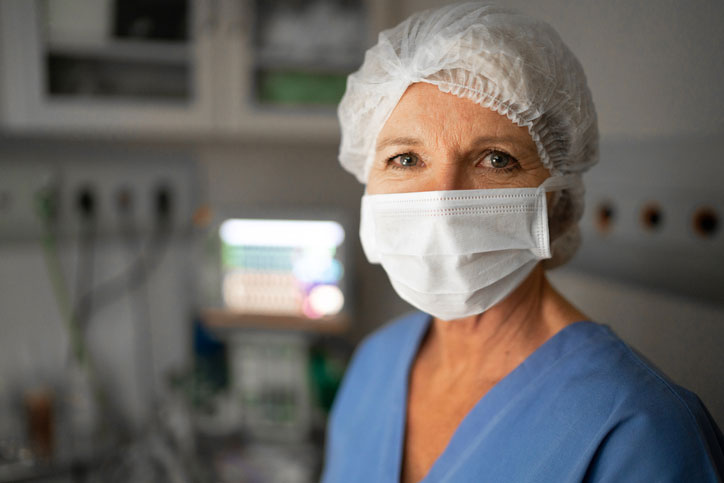 There are a few advanced practice registered nursing (APRN) roles, and even more patient population and specialty focus areas for nurse practitioners specifically. But none of them are even close to as widespread and well-established as family nurse practitioners.
In a sense, all nurse practitioners came from family nurse practitioners.
The very first training program for nurse practitioners, started at the University of Rochester in 1965, was designed to leverage the natural advantages of holistic nursing practice in providing primary care in family health and disease prevention.
Even today, according to the American Association of Nurse Practitioners (AANP), more than 70 percent of all certified nurse practitioners are FNPs.
---
---
Today, family nurse practitioners have possibly the broadest scope of practice of any advanced practice registered nursing profession. FNPs are trained to offer primary care to patients ranging from newborns to individuals over 100 years old. That means they can assess, diagnose, and treat patients in that range for almost any malady that comes in the door.
Family NPs will most often find themselves serving as a trusted primary care provider. You can have the same patients for decades, getting to know their personality, unique healthcare profile, and hopes and fears. The responsibility for maintaining a healthy population of clients and helping them through the ups and downs of accident and illness falls naturally on family nurse practitioners.
What Does a Family Nurse Practitioner Do?
Family nurse practitioners put their extra training in nursing skills to use diagnosing, monitoring, and treating sick individuals of all ages, shapes, and sizes.
Primary care work is the core of family practice. FNPs deal with the basic healthcare needs that come in the door at any clinic or hospital in the country, from urinary tract infections to upper respiratory illnesses. They monitor and maintain chronic conditions like cirrhosis and diabetes, and perform regular checkups to catch problems before they start. They are trusted and expert healthcare professionals taking care of every kind of patient population.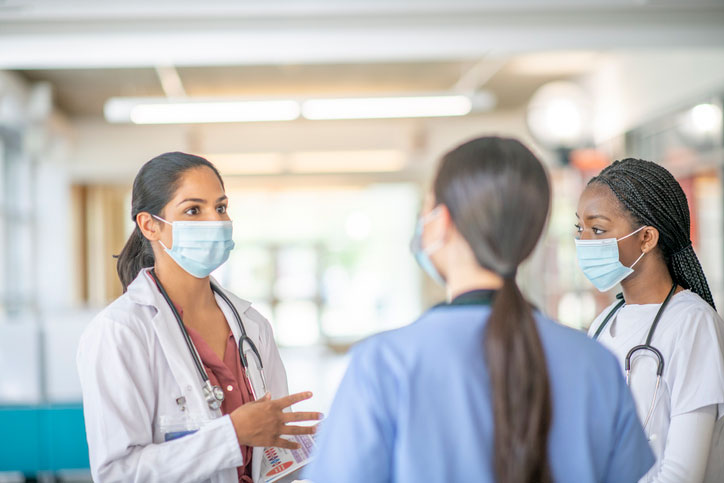 Family nurse practitioners also work closely with regular nurses, physicians, and other specialists like medical sonographers and lab techs in the normal course of their day. They often have a 50,000 foot view of patient cases that other providers might not get. Because of that, they can serve as communications central, making sure everyone on a multidisciplinary care team gets the information they need to make the best decisions for the patient.
The day-to-day work of FNPs very much fits the nursing mold. You greet and examine patients, answer questions, make diagnoses, consult physicians, and start treatment. There's plenty of paperwork to keep up with, but you also get time to spend with patients. The nursing model revolves around interpersonal connection. So you get to know the people you treat, and you come up with individual treatment plans that are best for them.
Although you come from the nursing tradition, you get a lot of flexibility and autonomy to follow your own judgement as a nurse practitioner. Although you will consult closely with physicians, you have the training and experience to perform many tasks independently.
Family Nurse Practitioner Jobs: FNP Job Description
Family nurse practitioners have a well-deserved reputation for being able to handle anything that comes at them. With the broad, holistic base of the nursing approach to healthcare plus the advanced diagnostic and treatment skills that come with their additional medical training, they have a skillset that can deal, at least initially, with just about any issue that comes in the door.
With some of the broadest NP training of all advanced practitioners, they have the skills to handle patients of almost any age, in any kind of primary care role. FNPs also have the option of sub-specializing in their training, with concentrations available in areas like:
Cardiology
Surgery
Emergency Medicine
Endocrinology
Oncology
Geriatric care
This makes for a really broad range of possible job duties in the FNP world. In general, no matter what your specialty, you can expect to handle the following tasks in almost any of those jobs:
Examine patients – Nurses in general are often among the first medical professionals a patient sees. Their initial workup creates the foundation that the entire case rests on. Nurse practitioners can make this process even more comprehensive with their extra training in taking patient history and making physical exams. They know what diagnostic tests to order and how to collect information about symptoms and environment that can make all the difference in an accurate diagnosis.
Make diagnoses – FNPs also have the skills to either contribute to or make those diagnoses independently. They know how to interpret tests and have the education to match symptoms to illnesses. They also have the ability to follow up, consulting with specialists or physicians to chase down the loose threads of difficult cases. Monitoring and evaluating cases throughout the care and treatment phase also means having the skills to deal with changing conditions and adapting to patient responses.
Develop treatment plans – With all the right information in hand, an FNP is also equipped to put together treatment plans for many different conditions and illnesses. They can, in some states, prescribe drugs. In other cases, they can order appropriate therapies or even perform procedures directly.
Communicate with patients and providers – Throughout the entire patient care process, FNPs are the hub of most communication involving the case. They often have the most direct interaction of any provider with the patient and their family. And because they have the expertise to understand what is going on at a high level, that means they can explain both the problems they have found and the treatments they think are best. They also are in a great position to keep others on the care team informed about the patient and their progress, arranging everything from additional therapy to specialist consults along the way.
FNPs are also superb educators, both of their patients and for other medical staff. It's not uncommon to see FNPs in a mentorship role with other nurses.
Part of the communication game in healthcare settings is paperwork and charting. Critical decisions are made based on the data in either paper or electronic charts. FNPs are tasked with making sure that information is accurate and up-to-date.
At the tail-end of the treatment process, FNPs also handle discharge. Again, communicating with patients about their self-care routines at home and the necessity of follow-up appointments is a key role.
Where Do Family Nurse Practitioners Work?
The roots of family nursing practice are in primary care positions, the generalist providers that are the first stop for most families or individuals when they start to feel unwell or just need a general checkup. For most Americans, that's the family doctor's office, and so that's the natural setting for most FNP jobs.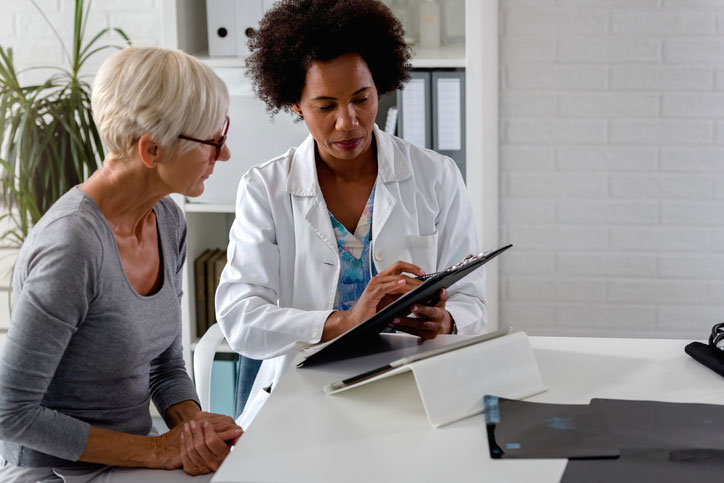 But FNPs actually have a wide range of locations they can choose to work, because their training is so flexible. The ability to sub-specialized gives you options from jobs in hospital emergency rooms to outpatient surgery centers. But most FNPs stay close to the core of the specialty, working in primary care clinics or doctor's offices.
What is the Family Nurse Practitioner Scope of Practice?
State licensing laws set the exact range of abilities and responsibilities that FNPs can take on. Although they can work with almost any patient population as primary care providers, exactly what duties and independent authorities they exercise are carefully defined by state law. And state laws vary considerably.
There are three basic scope of practice categories that most state APRN practice acts fall into.
Full Practice Authority – In these states, FNPs are given broad authority to independently assess, diagnose, and treat patients without oversight of any kind. In some of these states, that includes the ability to prescribe medications. It allows FNPs to open their own practices, seeing patients without the supervision of a physician.
Reduced Practice Authority – In these states, FNPs still enjoy a great deal of latitude when it comes to seeing and treating patients, but they can only do so under the general authority of a collaborating physician. In order to practice, you have to have a collaborative practice agreement already established with a doctor, who is required to approve your treatments and prescriptions, but isn't required to be on-site with you.
Restricted Practice Authority – In the most narrow scope of practice states, you actually must be supervised by a doctor. They have to sign off on your treatment plans, and they have to write any prescriptions for medication.
It's possible to have a meaningful and fulfilling job as an FNP anywhere in the country. Coming from a nursing background, you'll find you have more authority than you ever did as an RN no matter where you practice. But full authority is usually preferred, and big national organizations like the American Association of Nurse Practitioners (AANP) is continuing to push for those types of laws in every state.
How to Become a Family Nurse Practitioner in 6 Steps
Now that you understand what family nurse practitioners do, you are probably wondering how to become one.
It's a path that can take seven years or more. But it's one that ends with a pretty incredible position with enormous job satisfaction, a great salary, and real flexibility in where and how you want to work.
---
---
1. Become a Registered Nurse or Enter a Pipeline Program to Advanced Practice Nursing
Most NPs start out as registered nurses. You can qualify as an RN by several different paths, but the best route to advanced practice requires earning a bachelor's degree in nursing (BSN). Those four-year programs offer you the best preparation for the kind of advanced studies you will eventually need to take for APRN licensure.
Earning your RN license also is good practice for passing the tests you will have to take to become an FNP. The NCLEX-RN is a standardized national test for RN licensure that has a similar structure to board certification tests for APRNs.
Earning experience as a registered nurse also gives you a leg up in pursuit of advanced practice licensure. You get valuable, practical, hands-on time with patients that help you digest your advanced studies even better.
It's possible to find accelerated or bridge programs that combine RN training with a path to APRN status. This doesn't offer the same depth of experience, but can land you the educational qualifications to be an FNP in a lot less time.
2. Family Nurse Practitioner Degree Programs: MSN, DNP and Post-Master's Certificate
Like all APRNs, family nurse practitioners have to undergo graduate-level training in nursing to become qualified for licensure. That means earning a master's degree on top of your bachelor's, at the very least. Many nurse practitioner specialties are already leaning toward requiring a doctorate.
<!- mfunc search_btn -> <!- /mfunc search_btn ->
While the degree is a big deal for certification and licensure, it's not all about checking boxes. A solid FNP degree program is also chock-full of the kind of knowledge and experiences you need to deliver the best care possible to patients.
That education will include core NP training in topics like:
Evidence-based practice and research skills
Advanced pharmacology
Advanced physiology and pathophysiology
Theoretical frameworks of advanced nursing care
You build on top of those basics with classes in FNP-specific subjects such as:
Evaluation and management of common health problems
Women's health care
Primary care and pediatric primary care
Procedure labs
To make sure that coursework is up to date and in-line with the current demands of the profession, you'll want to make sure that you pick from among the best ACEN and CCNE accredited programs in your region. That accreditation from the Commission on Collegiate Nursing Education (CCNE) or the Accreditation Commission for Education in Nursing (ACEN) is the golden stamp of approval in advanced nurse training. Those bodies assess APRN nursing education programs to ensure they meet the standards required by national certifying boards. That's an important consideration for licensure as well as your own training goals.
Is it Better To Pick a MSN or a DNP Family Nurse Practitioner Programs?
There's no one right answer to the question of what degree level you should pursue to qualify as an FNP. In fact, you might end up making your decision based more on the content and instructors you find in a specific program rather than the initials that happen to go by the title.
Of course, a master's program is always going to be faster and less expensive. A master of science in nursing degree typically takes only about two years, and comes in at around $24,000 at a public university according to the national center for education statistics. Private schools can more than double those costs, averaging just under $51,000.
If that seems like a no-brainer when building up your educational credentials, think again.
The DNP is fast becoming the preferred degree among all nurse practitioners.
Although earning a DNP will take three years or more, and cost a third more, those extra years and dollars buy you a much more advanced education.
Doctorate-level education is not only becoming the standard, but also includes many practical advantages for FNPs:
Better scientific foundations for practice
Additional study of organizations and healthcare systems
Leadership and management skills training
Policy and population health considerations
Clinical scholarship and research skill building
DNP grads can expect higher salaries and better advancement opportunities throughout their careers.
Should You Consider an Online Family Nurse Practitioner Program?
Online education has become a completely accepted path to an advanced degree thanks to the COVID-19 pandemic. The truth is, though, that many MSN and DNP programs were happening online with complete success long before COVID came up.
That means you can find the same level of training and acceptance through an online degree as traditional MSN and DNP programs. And on top of that, you can also get a kind of flexibility in your training that can help you hold down your current job along the way, or continue to take care of your family and other commitments. Asynchronous, remote coursework allows you to take care of academic obligations from anywhere at nearly any time.
Of course, in a healthcare training program, you definitely need hands-on experience as well. But most remote programs are adept at placing you in local facilities for that vital clinical supervision, so you can still find a convenient solution while getting the full value of your online education.
What Are Some Ways to Make Family Nurse Practitioner Education More Affordable?
Although you're not going to automatically get a discount on your tuition in high-demand APRN degree programs, the fact that you are going into healthcare does give you some options to help cut your education expenses over time. From your initial nursing degree, you're probably already familiar with the many loans and scholarship available in the field.
But you might not know about the federal and state loan forgiveness programs that can cut your payments off in return for certain types of public service. The Public Service Loan Forgiveness Program is one example, offering the option of forgiving your outstanding debt after 120 qualifying payments as long as you are working in a public service role. And what nurse isn't working in a public service role?
Even more on the nose is the Nurse Corps Loan Repayment Program, which can pay up to 85 percent of outstanding loan debt if you commit to using your skills in a critical shortage facility in a high-need area.
What is a Post-Graduate Certificate Program for Family Nurse Practitioners?
If you already hold a master's degree, maybe one you earned as a regular RN or to become a different type of APRN, you can still make that work on your path to become a family nurse practitioner. Many schools offer post-graduate certificate programs for FNPs.
These are designed to give you only the course content you need for the specialty area of family practice, leaving out all the training that you already received in a previous master's program. That makes them a lot shorter and more focused than either MSN or DNP programs, not to mention cheaper.
Colleges typically charge the same per-credit rates as they do for their graduate programs, but since certificates require fewer credits, it's a much less expensive option. With the typical certificate available for only 15-30 credits of coursework, you can often finish up in just over a year.
Post-graduate certificates are a fast path to switch specialties if family nursing is your preference.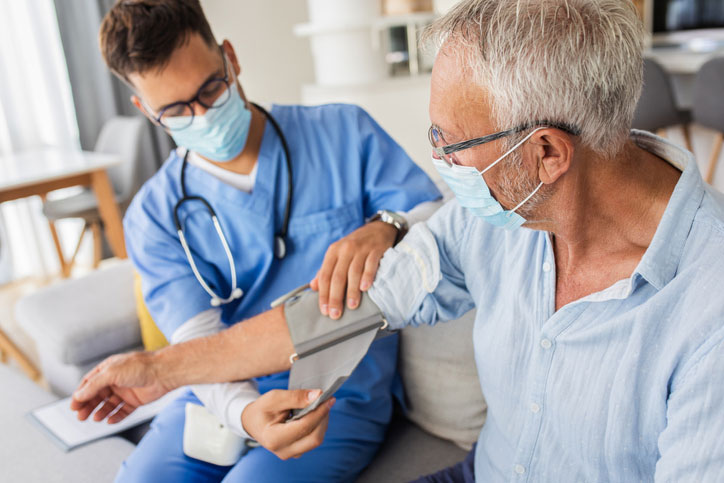 3. Complete Your Clinical Hours To Meet Certification and Licensing Standards
In order to sit for your FNP certification exam, and to become licensed, you have to accumulate at least 500 clinical hours with genuine patient contact. All the classroom work in the world can't make up for the reality of having to manage actual patients, in a real-world environment, with all the complications and distractions that come along with that.
A fully accredited FNP degree or certification program will include clinical practical experience. In most cases, it will exceed the number of hours required for FNP certification. You might have placements leading to six or seven hundred hours.
Most of those programs will also require certain numbers of hours in different clinical rotations. This is particularly important for FNPs, who have such a broad latitude in patient populations and specialties they can choose to work with. So you can expect to build up clinical hours in women's health, pediatrics, geriatrics, obstetrics, or more.
4. Become Board-Certified as a Family Nurse Practitioner
Board certification is an important part of becoming a nurse practitioner, one that helps uphold the high standards found in the field today. National organizations have membership from academic, practical nursing, administrative, and even medical backgrounds. They set the bar for what it means to be a nurse practitioner in any hospital, clinic, or private practice found in any part of the country.
You should note the difference between certification and earning a certificate. Certificate programs, such as the post-graduate certificates you might have used to get your educational requirements out of the way, just show that you have completed that course of education. They don't actually certify you as a professional in any way. You'll need to pass professional certification exams for that.
The certification process looks at the full scope of your experience, training, and knowledge, and serves as a stamp of approval on your expertise. That's what state licensing boards and future employers count on when they are deciding to grant you a license or hire you.
FNPs have two different options when it comes to getting a respected, official national board certification.
FNP-C – The FNP-C is offered by the American Academy of Nurse Practitioners (AANP). The test is 150 multiple-choice questions, covering clinical assessment, diagnostics, and treatment planning.
FNP-BC – The FNP-BC is awarded by the American Nurses Credentialing Center (ANCC). The 175 question test has more of an emphasis on policy, research, and nursing theory topics.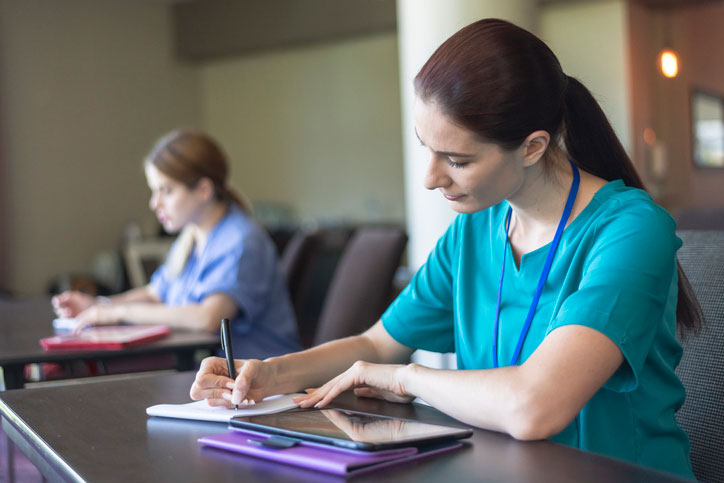 Because of that, the FNP-BC is often thought of as the preferred cert for NPs heading into academic or leadership roles, while the FNP-C is considered the better choice for practicing clinicians.
In most other respects, the certifications are very similar. You have to:
Hold a current RN license
Have completed a doctorate or master's program with the appropriate FNP coursework
Complete a minimum of 500 clinical hours of supervised direct patient care
And both are accepted by state licensing boards as proof of your qualifications.
Should You Take a Family Nurse Practitioner Certification Intensive Review Course?
National board certification as an FNP is a big deal, which makes passing the exams for that certification a big deal. That leads a lot of people to cram in intensive review courses after they graduate, but before they sit down to take their board exam.
Is an intensive review course right for you? That's a personal question that everyone will answer differently. If you are an ace student with a history of busting the grading curve and slam-dunking exams, you might find a review a waste of money. Or if you are comfortable with your motivation and can count on yourself to go through the prep material under your own power.
But if you recognize that you are someone who does better with some outside accountability, and would like someone to help you walk through what you are expected to know, then an intensive review course can be a great choice to make sure you pass your board exam on the first try.
5. Get a Job as a Family Nurse Practitioner
FNPs don't have any trouble finding jobs where they want, either. The coming shortage of primary providers is dire. The Association of American Medical Colleges published findings in 2019 that estimate a shortage of almost 122,000 physicians in the country by 2032. An aging population, increasingly technical healthcare procedures, and a financial squeeze are all putting nurse practitioners in the spotlight as replacements.
BLS predicts a whopping 45 percent increase in job growth for NPs between 2019 and 2029, much faster than average.
Family Nurse Practitioner Salary: How Much Do FNPs Make?
The Bureau of Labor Statistics doesn't specifically track salaries by nurse practitioner specializations, so it's not possible to say exactly what the salary range for family nurse practitioners is. Overall, though, NPs were paid a very solid median salary of $111,680 in 2020. That compares pretty favorably with the average $75,330 per year paid to regular RNs.
And the news is even better at the top. The top ten percent of nurse practitioners, those with the most education and experience, make $156,160 or more each year.
Salaries also vary by the type of facility you are employed in. The median for different industries for nurse practitioners in 2020 broke out to:
Hospitals – $124,660
Outpatient care centers – $122,840
Doctor's offices – $114,570
Other healthcare offices – $111,610
Educational services – $111,400
6. Keep Your Career Current Through Continuing Education in Advanced Practice Family Nursing
Getting your license and board certification is a long and challenging process. But it's not the end of your education, not by a long shot. Medicine and nursing are areas that are constantly evolving through scientific research, the development of best practices, and the state of their patient populations. You have to keep your own skills and knowledge up to speed with those developments or you will get left behind.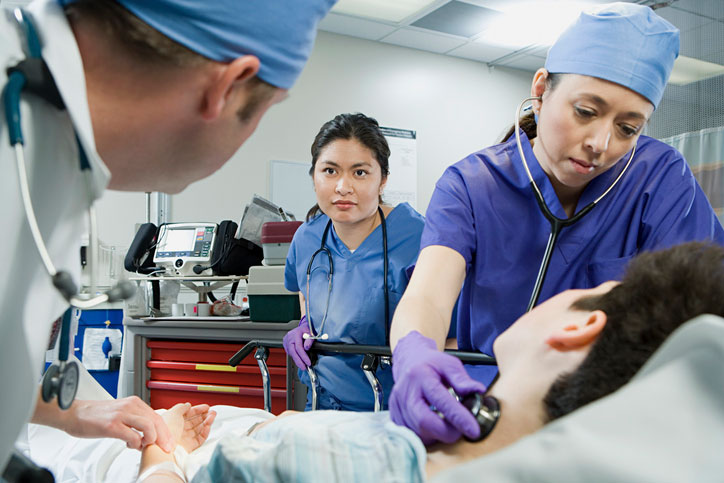 Nurse practitioner residency programs and fellowships are two ways to boost your skills early on in your career. Each offer a time-limited, paid position within your specialty or sub-specialty that is designed to continue your education to a higher level through on-the-job training.
Residencies – Typically offered to FNPs immediately out of school, a residency is a one-year position designed to bridge the gap between theory and practice. They allow you to build competency while still under the watchful eye of experience FNP preceptors and mentors.
Fellowships – A fellowship also usually runs for one year, but it involves a more highly specialized type of training. They are designed to offer more focused and intensive practice in specific sub-specialties, like urgent care or rural practice for FNPs.
You will also need to keep up your continuing education through less structured training throughout the course of your career. Both the FNP-C and FNP-BC require renewal on a 5-year cycle. Each have substantial requirements for continuing education. ANCC requires a minimum of 75 clock hours of training in your specialty plus a combination of projects, presentations, or preceptorship work. AANP requires either 100 contact hours of continuing education plus 1,000 clinical practice hours, or allows you to take an exam to recertify. ANCC may allow renewal by exam in some circumstances also.
<!- mfunc search_btn -> <!- /mfunc search_btn ->
Work as a family nurse practitioner is very rewarding and pays well. You can easily make a long and exciting career out of the job, but it's also a springboard to different types of practice. FNPs have good general nursing skills they can use to shift into other sub-specialties of advanced family nursing, or, with a post-graduate certificate, even into other types of advanced practice registered nursing.
No MSN-FNP programs currently offered
No MSN-FNP programs currently offered
No MSN-FNP programs currently offered

<!- mfunc feat_school ->