<!- mfunc feat_school ->
Featured Programs:
Sponsored School(s)
Sponsored School(s)
All school search, finder, or match results, as well as colleges and universities displayed as "Featured School(s)" or "Sponsored Content" are advertisers that compensate us for placement on this site. The resources, editorial content, and school evaluations published on this site are developed independent of the schools that advertise here.
<!- /mfunc feat_school ->
A nurse administrator is a professional registered nurse who also, or even primarily, acts as a manager and leader in their healthcare organization. Nurse administrators range from shift supervisors overseeing a handful of other nurses all the way up to chief nursing officers who run the nursing staff for entire healthcare corporations.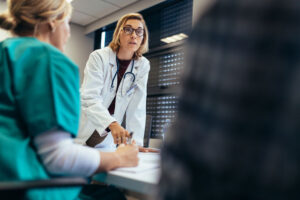 According to the American Association of College of Nursing (AACN), there were nearly 4 million registered nurses in the United States as of 2019. They are one of the largest segments in the American workforce overall, and are unquestionably the largest single component of the American healthcare workforce. They dominate every part of the healthcare industry, working in small clinics, big hospitals, and even out in the community in home healthcare. And you find them in every specialty under the sun, from public health to emergency medicine to podiatry.
Such a huge and diverse workforce takes a lot of coordination to keep on task. Someone at every single organization where nurses work has to manage the schedule, set policies, conduct performance reviews, handle disputes, and coordinate assignments.
No one better suited for managing registered nurses than a registered nurse.
That's where nursing administration comes in.
Most organizations that employ nurses also uses nurses to manage those critical caregivers. The titles and specific responsibilities can vary from organization to organization. They also operate at different levels within those organizations, from handling a handful of staff on a unit to taking charge of every nurse employed by the organization. Some common titles in nursing administration are:
Nurse Manager
Nurse Administrator
Nursing Supervisor
Director of Nursing
Vice President of Nursing
Chief Nursing Officer (CNO)
Every single one of those is a big job in its own way. Whether setting the standards for an entire managed care organization or leading the way in a med-surg ward, nurse administrators make a critical difference every day in how patients are treated in the United States.
---
Nursing Administration Jobs: What's the Job Description for a Nurse Administrator?
How to Become a Nurse Administrator
Education Requirements for Nurse Administrators: MSN, DNP and Certificates in Nursing Administration
Getting Experience as a Nursing Administrator
National Certification Programs for Nursing Leadership Professionals
Nurse Administrator Salary: How Much Does a Nurse Administrator Make?
Resources for Medical and Health Services Managers
---
Nursing Administration Jobs: What's the Job Description for a Nurse Administrator?
As you'll see, nursing administration happens at so many different levels of the healthcare system, in so many different settings, that there's no way to get specific about what every single nursing administrator does during the average day. Some of them will spend a lot of that time out on a clinic floor, directly caring for patients. Others will spend most of their time in an office, on the phone with senior leadership, suppliers, and even government officials, coordinating high-level healthcare policy.
<!- mfunc search_btn -> <!- /mfunc search_btn ->
Nursing leadership professionals must be able to develop a successful vision for the nursing organization and nurture collaborative relationships among interdepartmental staff and management in an effort to implement that vision. Nurse leaders must apply analytical and problem solving skills on a daily basis, and provide direct guidance and mentorship to their unit nurses, often acting as a liaison between staff, various levels of management, and the hospital's executive team.
Exactly how you accomplish all that depends on your level of leadership. Most nurses seem to agree that there are three basic tiers of nursing administration jobs:
First-Line Nurse Managers – The most common type of nurse administrator are usually called nursing managers or nursing supervisors. They are responsible for overseeing direct patient care nursing services. Their level of responsibility may include only a handful or a couple of dozen nurses on a shift or working in a specific ward.

Responsibilities: First-line managers make sure nurses in their charge show up on time, provide the best possible care for their patients, follow organizational policies, and handle supplies and inventory in their unit. They also typically are involved in directly caring for patients as well, giving them first-hand insight into the challenges their staff faces.

Mid-level Nurse Managers – The next layer of management in nursing administration is formed by clinical nurse managers, coordinators, case managers, and similar titles. These middle nurse managers are often responsible for overseeing several units within a facility. First-line nurse managers may report to them.

Responsibilities: Mid-level nurse managers have the tough job of being the interface between the upper levels of management and where the work actually gets done. That means receiving and interpreting orders and policies from senior executives, coordinating care with other departments and managers, and dealing with hiring and budgeting matters in their departments.

Nurse Executives – The rarified air at this level of administration includes Chief Nursing Officers (CNOs), nursing directors, and executive vice presidents of nursing. They work at the highest levels of responsibility within a healthcare system, designing patient care delivery systems and directing patient care services throughout a facility. Mid-level nurse managers but also other professional healthcare staff report to them and they have broad authority in managing services and facilities.

Responsibilities: Nursing executives spend their days making significant strategic decisions that can involve multi-million dollar budgets and change the way nurses work in hundreds of different units and facilities in a regional healthcare system.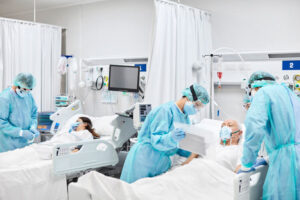 Nothing in the recent history of healthcare management has tested nursing administrators like the COVID-19 pandemic. Like all epidemics or health emergencies, nurses found themselves on the front lines when the coronavirus hit the world. The particular lingering lung afflictions caused by the virus didn't have many medical solutions. Instead, tried and true nursing care was needed, often for weeks for each patient in the ICU. Monitoring ventilators, proning patients, and offering a quick squeeze of the hand to scared victims with a tube down their throat was all that could be done.It created enormous stress in the nursing ranks and unprecedented burnout. And all of that came during critical personal protective equipment shortages that put nurses who were already risking a lot even more in harms way. According to an investigation by The Guardian and KHN, over 3,600 medical professionals caught COVID-19 and died in the course of their duties in the pandemic's first year alone.
In an apparently endless pandemic, it fell to tough, capable nursing admins to motivate their staff, keep the duty rosters filled, and to protect their nurses as much as possible in the process. In a deadly time, lives were saved and communities were held together by the leadership of nurses.
There are some functions that you will find in common among all nursing administrators at every level, however.
Hiring, firing, and guiding nursing staff below them
Managing staffing requirements for nursing roles and duties
Participating in the development of and sticking to a departmental budget
Attending meetings to coordinate with other leaders
Handling complaints from patients, doctors, or other staff about nursing duties or nurses themselves
Keeping records for their department
Overseeing educational opportunities and training for nurses in their department
Reporting on job performance, staff needs, and patient outcomes in their department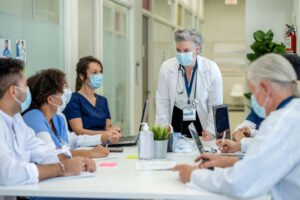 Specific nursing administration roles will also take on more specific duties. For example, a chief nursing officer is likely to spend time working with organizational marketing executives helping craft a vision and message to represent the hospital. They will also be involved in consultations with counsel and ethicists in developing treatment practices and procedures. They may review and select training opportunities and programs that will be offered to nursing staff.
You'll find similar job-specific tasks at every level, but the consistent thread is that they all require nursing experience to perform properly, and they all affect the nurses in your charge.
How to Become a Nurse Administrator
Nurse administrators start as nurses. It's a hard and fast rule with good logic behind it: nurses mostly listen to other nurses, if they are going to listen to anyone. Good luck trying to put some suit with only an MBA in charge of a group of battle-tested RNs.
Your first step on the path to becoming a nurse administrator is becoming a registered nurse.
It's possible to become an RN with only an associate's degree in nursing (ADN), but if you are bound for management, your best bet is to prepare with at least a BSN (Bachelor of Science in Nursing). BSN programs will include not just the essential nursing skills to pass the NCLEX-RN test, but also offer you a well-rounded education that builds your communication and leadership skills. Coursework in liberal arts classes like English, history, art, and others will expand your critical thinking and analysis skills to make you a better manager.
If you already hold an RN with an ADN, you can find RN-to-BSN programs that will specifically build on your current training and skills
A bachelor's degree will also be part of the entry requirements to the next step on your path to nursing administration: a graduate-level degree.
Education Requirements for Nurse Administrators: MSN, DNP and Certificates in Nursing Administration
Unlike registered nursing, there is actually no hard and fast legal requirement that you earn an advanced degree to become a nursing administrator. Most certifications for nursing administrators only require a bachelor's degree or higher. But an advanced degree is a requirement for many organizations that are looking to hire nursing leaders.
That's because only the advanced education you will get in a master's or even doctoral program will put you on a footing to understand the demands and challenges of nursing leadership. Nurses are at the leading edge of patient treatments in every healthcare field. That means being up-to-date on the latest technologies and techniques. A staff nurse can learn these out of a manual, on the job. A nurse manager has to have an idea of how to interpret the research, balance the economic consequences, and view those treatments in the larger context of a hospital organization and an insurance system that supports them.
<!- mfunc search_btn -> <!- /mfunc search_btn ->
Those are all tasks that graduate-level coursework supports.
You can get that kind of training at the master's level, through a master of science in nursing degree (MSN). But you can also go on to the very top tier of nursing education by enrolling in a DNP, or Doctor of Nursing Practice program.
An MSN will take two or three years of study, while a DNP can be four to five years (unless you already hold an MSN, in which case the DNP can be completed more quickly). They are expensive degrees, but they offer the elite training that organizations expect today in nursing administration.
It's also becoming common to mix and match advanced nursing degrees with more specific studies in a dual major. That might be an MSN with a Master of Business Administration, or an MSN with a Master of Healthcare Administration. It's extra work (although these dual-major programs can usually be completed in the same amount of time as a single master's degree) but you get the full level of concentration in each topic, not to mention fresh perspectives from outside the nursing realm.
How You Can Meet the Educational Requirements for Nursing Leadership Professionals
MSN and DNP graduates end up in many different types of nursing, so you'll want to find a program that has a concentration that is specific to nursing administration. The coursework you will get in those programs include:
Organizational design and structure – Working in management means understanding the ways that organizations are put together and how lines of communication and authority function within those organizations. You'll study the theory of industrial organization and learn about the history of how groups of individuals are brought together, managed, and lead to accomplish more than the sum of their individual abilities. And you'll learn about how to handle dysfunction and how to correct it in those systems.
Human resources considerations in healthcare – When you are organizing a healthcare system, that means organizing people. Human resources are the ultimate resources in medicine, highly trained and highly paid practitioners who have expectations and requirements of their employer that you will have to help meet. You will get training in everything from handling harassment complaints to assisting your staff in getting continuing education to mentoring new nurses coming under your wing.
Finance and resource management – The other side of healthcare is equally important to understand: the dollars and cents that go into patient care. In a $4 billion industry, understanding healthcare finance isn't optional for nursing administrators. You'll learn how to develop spreadsheets, track and manage costs, make budgeting predictions and decisions, and how to balance competing requirements and mandates in a world of limited resources.
Systems management and leadership – Healthcare organizations are increasingly looking to information systems and automation to deal with some of those big considerations balancing finances, patient outcomes, and staffing. That means tomorrow's nursing leader also has to have a high-tech touch, with skills in looking at databases, managing clinical information systems, and integrating computers with day-to-day needs on the unit floor. You'll be taught how to use the information you get from those systems to drive your own leadership initiatives.
Those come on top of the standard advanced-level nursing studies that are delivered in such programs, looking at healthcare policy, research design, professional ethics, and holistic healthcare practices. Together, they give you not only the skills you need to be an able administrator, but also the elite nursing practical skills to earn the respect of your staff and peers.
What's the Difference Between a Clinical Nurse Leader and a Nurse Administrator?
If you are coming from outside the healthcare industry, you might have some trouble telling the difference between the role of the clinical nurse leader and nursing administrators. After all, leader, administrator, and manager all mean pretty much the same thing, don't they? But the role of the CNL, or Clinical Nurse Leader, is new and distinct and doesn't have a lot of overlap with the role of nurse administrators or nurse managers.
Nursing administrators have been active for a long time running hospital wards, departments, and other healthcare facilities. But the CNL was created relatively recently, in the early 2000s, to fill a specific void in healthcare services: something like a clinical safety officer, reviewing patient safety and outcomes data and advocating for more systematic, effective infection control and accident prevention throughout the patient care process.
To ensure nurses were prepared for that role, the AACN, or American Association of Colleges of Nursing, created the Clinical Nurse Leader certification program, and validates specific graduate degree programs to qualify future CNLs. Almost every CNL job requires that certification.
Although patient safety and wellness are also concerns for nursing administrators, that's just one part of their job. For CNLs, it is the entire focus, and they have more specialized training and narrower job duties than a nurse administrator as a result.
Getting Experience as a Nursing Administrator
Even if you having nursing administration as your end goal, you can expect to have to put in some time on the unit floor or working intake at a doctor's office before you get there. The healthcare community isn't Wall Street; you don't just get a degree and get dropped into management jobs when people's lives are on the line. You need to demonstrate some real clinical competency and on-the-ground decision-making skills before you'll be fully trusted in nursing leadership roles.
You can, however, look for opportunities to build your leadership and managerial skills right from the get-go as a registered nurse. Nursing management positions start pretty close to the clinical coal-face in medicine.
With a little moxie and the right educational background, you can definitely angle to become a shift-lead fairly early in your nursing career.
You can also take on volunteer work that builds the kind of managerial skills you need as a nurse administrator. No one else is going to want to sit on the infection control committee or the disaster planning staff. If you step up and help out in those roles, you'll find yourself both earning respect and learning the ropes of coordinating with other departments and communicating back to nursing staff.
National Certification Programs for Nursing Leadership Professionals
Beyond earning a degree to prepare for a career as a nursing leader, you will want to strongly consider becoming certified in nursing administration. Many employers are beginning to require such certification. It will also give you a leg up against the competition anywhere that you apply even if it isn't strictly necessary.
A certificate in nursing administration is not the same thing as certification, however. A certificate is best viewed as a confirmation that you have successfully completed a certain course of study in the subject of nursing management and leadership. It validates your education in the subject.
A certification, on the other hand, takes a more comprehensive approach to evaluating your skills. A certificate or degree is only one part of the broader requirements for certification. You'll also need to demonstrate:
Knowledge of the field
Experience as a practicing nurse administrator
Verified education
Professional references, in some cases
There are three major certification groups, with several certifications available, that you might consider when becoming a nursing administrator:
American Nurses Credentialing Center – ANCC is the world's largest nurse credentialing body, offering dozens of certifications in a wide variety of specialty and practice areas. For nurse administrators, the Nurse Executive and Nurse Executive Advanced certifications are the ticket. At $400 each plus a nearly $300 ANCC membership fee, they are not cheap, but the competency-based exams that you pass along with them, together with transcript verification, assures employers that you are the real deal when it comes to nursing leadership skills and experience.
American Organization for Nursing Leadership – Formerly the American Organization of Nurse Executives, AONL has broadened its horizons to support nursing leadership at every level. They offer two certifications to support that mission, the Certified Nurse Manager and Leader (CNML) and the Certified in Executive Nursing Practice (CENP). Both are exam-based certifications requiring both education and experience for eligibility, costing around $300 for AONL members and $450 for non-members.
American College of Healthcare Executives – ACHE is not a nursing-centric organization, but their certification still carries weight with hiring committees looking for leadership talent. Becoming a Fellow of the American College of Healthcare Executives puts you in the ranks not just of nursing leaders but among the forefront of all healthcare managers and executives. That's because the strong requirements for the FACHE include earning an advanced degree, holding a verified healthcare management position for at least five years, having two professional references vouch for you, and getting a set amount of management-specific continuing education.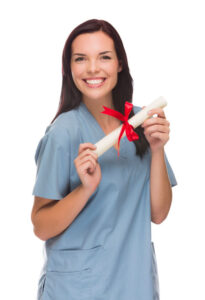 Any of these professional certifications can give you an edge in the field of nursing leadership, but you should also carefully consider your career progression before pursuing any of them. You might check around with potential employers and find which would be the most valuable for your individual goals.
Of course, there's nothing that says you can't earn them all, if you have the time, the ambition, and the money!
Nurse Administrator Salary: How Much Does a Nurse Administrator Make?
Nursing administrators straddle the line between two different professions: registered nurses, and medical and health services managers. The Bureau of Labor Statistics doesn't separate nurse administrators as a career, but you can expect their salaries to start near the upper end for registered nurses, who they supervise, and then continue up the ladder as health services managers.
For 2020, the median salary for all registered nurses in the U.S. was $75,330. Those in the top ten percent, however, which would be most likely to include experienced and highly educated nurse administrators, could bring in more than $116,230.
Medical and healthcare service managers were paid a median annual salary of $104,280, which shows you exactly where the overlap starts for nurse administrators. The top ten percent in that position could earn nearly $200,000 annually.
Of course, in all of these positions, the specialty and industry you choose can make a significant difference. For health service managers, the top five highest paying industries in 2020 were:
Government – $116,380
Hospitals – $112,870
Outpatient care centers – $100,690
Offices of physicians – $94,240
Nursing and residential care facilities – $89,880
These are all industries where there is a healthy demand for nurse administrators, driven by demographic and cost considerations. And demand for skilled administrators overall is expected to boom over the next decade, with BLS predicting a 32 percent increase in positions for medical and health service managers between 2019 and 2029.
Resources for Medical and Health Services Managers
One thing you'll learn pretty fast about leadership is that it's not a solo pursuit. You'll rely on your superiors, your staff, and your peers at every stage of the game to make it in nursing administration.
<!- mfunc search_btn -> <!- /mfunc search_btn ->
So it's important to get connected early on with the kind of resources that can help you shine in the position. These publications and associations are all about getting the latest healthcare and nursing management information into the hands of people that can use it.
The Journal for Nursing Leadership (JONA) is an authoritative source for the latest news and information in patient care leadership. Readers of JONA are typically nurse executives, directors of nursing, and nursing managers in any number of settings, including hospitals, community health and ambulatory care environments.
The American Nurses Association is the only full-service professional organization that represents more than 3.1 million registered nurses in the United States through its state nurses associations and affiliates. If you plan to manage nurses for a living, there's no better way to stay tapped into what their issues and concerns are than membership in ANA.
The American Organization for Nursing Leadership is a more specialized group, exclusively for nursing leaders. This is right up your alley as a nurse leader, with more than 10,000 of your peers already members. It offers plenty of professional development and networking opportunities, with competency-based learning and a range of topics from finance to governance to leadership.
In addition to those general resources, there are dozens of more specialized nursing associations that reflect nursing administration in different areas of practice, or with particular interests in administrative duties. Sometimes you'll even find regional groups that study and represent nurse executives in issues that are hot in your particular locale. Those include:
No matter what your area of practice or interest, it's always worth keeping in mind you're not the first one down this path. Other nursing leaders have gone before, and others are coming up the ladder behind. There will always be a hand out to help you up or someone who you can help along the way yourself. Helping is what nurses do.
<!- mfunc feat_school ->
Featured Programs:
Sponsored School(s)
Sponsored School(s)
All school search, finder, or match results, as well as colleges and universities displayed as "Featured School(s)" or "Sponsored Content" are advertisers that compensate us for placement on this site. The resources, editorial content, and school evaluations published on this site are developed independent of the schools that advertise here.
<!- /mfunc feat_school ->