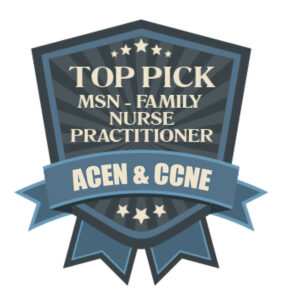 Becoming a Family Nurse Practitioner is a dream job for many registered nurses. As a practical, people-focused practice and with sub-specialties available to scratch any special medical interest you happen to have, the FNP is one of the most popular patient population options for many RNs ready to earn their master's at an FNP Program and make the move to advanced practice.
But the "advanced" in Advance Practice Registered Nurse isn't just there for show… you have to work and study hard to earn that status and take on the weighty responsibility that comes with it.
You won't be doing any of that without first earning a graduate degree, and the Master of Science in Nursing is still far and away the most popular option. The MSN is an intensive educational experience taking you through about 50 credits and 500 clinical hours covering advanced pathophysiology, pharmacology, and health assessment and diagnosis, all designed to sharpen your nursing skills to a fine edge and prepare you to practice with a greater level of authority and autonomy.
It should be obvious that the master's program you choose carries a lot of weight, both when it comes time to crush your national certification exam, and as you look to future career prospects and the possibility of independent practice. And this is exactly why we put together this list of what we think are the very best accredited MSN-FNP programs out there.
<!- mfunc search_box_body ->
<!- /mfunc search_box_body ->
<!- mfunc feat_school ->
FNP Programs Ranking Criteria
Accreditation Was Just the First Filter
Why only programs accredited by CCNE (Commission on Collegiate Nursing Education) or ACEN (Accreditation Commission for Education in Nursing)?
For starters, because those are the two most influential nursing accreditation bodies in the U.S. CCNE is the only accreditation body affiliated with the American Association of Colleges of Nursing, the main national voice supporting nursing education, while the ACEN is an off-shoot of the National League for Nursing and is the oldest nursing accreditor in the country. Together, they oversee nearly 2000 nursing schools are members, giving them the broadest perspective on current standards in nursing education of any of the specialty accreditation bodies.
<!- mfunc search_btn -> <!- /mfunc search_btn ->
But the other reason is that the process of becoming accredited improves the program itself. Both ACEN and CCNE accreditation puts candidate programs under the microscope, checking qualifications like:
Faculty and student participation in program governance
Accuracy of documents and publications
Adequate fiscal resources to meet program goals
Credentials of faculty and preceptors
If a school meets their stringent standards, then it clears the first hurdle.
Narrowing it Down to the Very Best MSN-FNP Programs
That still leaves a lot of schools on the board, though. So we got to work narrowing it down to our top 10 favorite programs in each region.
Success Rates on the National Certification Exams
One of the main things a school could do to get in our good graces is post a high pass rate for the national certification exams –the American Nurses Credentialing Center (ANCC) FNP board certification exam, the American Association of Nurse Practitioners (AANP) FNP exam, or both. You're stuck in neutral until you get your national certification, so when you see a school with a track record that shows a vast majority of graduates going on to ace their exams, it's a good indicator that you're looking at a program that takes exam prep and student outcomes seriously, even after graduation.
Convenience and Flexibility
By the very nature of the degree, virtually all MSN programs are geared toward helping working RNs gain advanced skills, and the career prospects and better salaries that come with it. In this sense, just about all MSN programs are structured with the scheduling needs of busy working nurses in mind. While this almost always means some online course material, the real trick is in finding the balance between ensuring students get the kind of hands-on training it takes to assimilate advanced theory in pathophysilology, health assessment and pharmacology, and the right level of convenience and flexibility it takes to see a program through to completion. Most programs these days offer some blend of online coursework and required on-site visits for lab work and practicum, but some schools make an extra effort to make their programs convenient enough to be accessible to even the busiest working nurses, by offering multiple start dates, the flexibility of asynchronous online coursework, a wide network of clinical partners in multiple states, and even the freedom to arrange for an all new preceptor and clinical partnership.
Experiences that Support Specific Career Paths
Earning your MSN is all about raising your level of expertise, and there are an array of different career paths your new advanced nursing skills can lead you down. For some, becoming an NP means stepping into a clinical leadership role in a major hospital, while for others it might mean going solo and opening a small, independent family clinic. Do you want to put your skills to work as a primary care provider in one of the many parts of the country with a chronic shortage of physicians? A program where practicums are expected to be completed in medically underserved communities would be a wise choice… Are you looking to take on a leadership role – and the higher salary that comes with it – at the hospital you currently work for? Clearly, a program tied in with a major hospital system is what you're after.. Are you looking for an opportunity for travel, personal enrichment and a chance to work with truly diverse patients? A school that has a strong overseas study option might be the best fit for you.
Funding and Research Grants
Funding was another consideration. If schools are getting big grants, that means someone has spent enough time looking at them to decide they are worth the money. That means they are more likely to be worth yourmoney, too. Even more significantly, it means bigger, badder research work taking place there, training in state-of-the-art labs, and having more exposure to the latest technology in medicine today. These are all things any advanced practice nursing student would benefit from.
Scholarships
Speaking of money, we're looking out for your pocketbook, too. Schools that offered a great value for the tuition rate were more likely to make the list than those that charge a lot but fail to deliver. We also considered the scholarship options available through the program. The more awards open to advanced practice nursing students, the better.
Student Satisfaction
At a time when few things are as valuable as customer reviews for businesses looking to give their clients the best possible product experience, many universities have followed suit. What better way for a school to find out what it's doing right and where it might be able to improve than to ask the people who just completed a program? Nursing schools know it often only takes some small refinements to achieve the best results with students, so they're routinely gathering feedback, and when they've achieved a high level of satisfaction, they're publishing the results! What this process really shows is how committed a school is to creating the best possible student experience, so we gave a nod to nursing schools that took the time to survey graduates and post the results.
The Little Extras
Finally, we left room for the little extras, the stuff that's hard to quantify but nonetheless made a particular program stand out from the pack. It could be a school with heart, one where the mission shines through the curriculum and infuses the community and graduates with spirit and hope. It could be extra specialty program options, focus areas that let you dive into a sub-specialty before you even get to graduation. Or it might be a particularly diverse set of clinical practicum options, giving you choices in a field plagued with a limited number of preceptors.
Location is Relevant in Nursing Education, Even with Online FNP Programs
Nursing schools tend to partner with the clinics and hospitals around them for clinical training. This not only allows clinicals to be aligned with the standards and practices of local providers (including the level of independent practice and prescribing authority allowed by state boards and multi-state compacts), but also allows you to do your practicum with people you might later be looking to for career advancement or networking opportunities.
<!- mfunc search_btn -> <!- /mfunc search_btn ->
You'll also be learning from instructors who often have their own networks in the area or hold positions of clinical authority in addition to their faculty posts. If you're going to learn the trade, the best way to do it is under the guidance of the folks you might eventually work for or whose references will be respected in the community.
Our Favorite Accredited MSN-FNP Programs by Region
Whatever the special quality is that you're looking for from the MSN-FNP program you choose, we're convinced you are going to find the perfect school in your area somewhere on this list.
---
This list features programs that our editorial staff hand selected to present as top recommendations. We believe the many aspects of a program that come together to create an exceptional student experience can't be reduced to numbers alone, so no formula was used to attempt to score or rank these programs. Instead, they represent our top picks based on a thoughtful review of the things we know mean the most to students. Each one of these programs offers something unique, and all come equally highly recommended. We stand behind the principal of editorial integrity and make these recommendations independently and without compensation.
---
West Region
Midwest Region
South Region
Northeast Region
You can also take a look at our most affordable MSN-FNP programs article.