<!– mfunc feat_school –>
FEATURED PROGRAMS
SPONSORED LISTINGS
Grand Canyon University
B.S. in Nursing (Registered Nurse - R.N to B.S.N.) and MSN - Acute Care NP, FNP, Health Care Quality & Patient Safety, Health Informatics, Nursing Education, Nurse Leadership, and Public Health Nursing
Aspen University
Online MSN - CCNE Accredited
United States University
Online MSN - Family Nurse Practitioner. CCNE Accredited.
Liberty University
Doctor of Nursing Practice – Family Nurse Practitioner
Purdue University Global
RN to BSN, BSN, and MSN in Nursing Programs
Walden University
Online Nursing Programs include an RN-BSN completion program; MSN tracks in FNP, Acute and Primary Care AGNP, Executive Leadership, Informatics and more; Post-Master's Certificates, and both a practice-focused DNP and PhD in Nursing
Simmons School of Nursing and Health Sciences
Master of Science in Nursing (MSN) — Family Nurse Practitioner, Scholarships are Available for Qualified Applicants.
Georgetown University
Online Master of Science Degree in Nursing, BSN Required
Nursing@USC
Online Master of Science Degree in Nursing, BSN Required
Capella University
RN-to-BSN and RN-to-BSN/MSN Combined Option, Post Master's DNP and BSN-to-DNP
<!– /mfunc feat_school –>
Professional organizations for healthcare practitioners have played a large role in advocating for their members and in shaping the quality of health care that is delivered by the constituency they represent. For nurse practitioners, these organizations can help advance professional development and encourage leadership, while putting NPs in a position to influence policy decisions that work to improve quality in healthcare practice. This is done through a wide variety of supporting activities including communication, education, research, recognition, and advocacy.
There are many professional organizations that work for the development of practice standards and certification in healthcare, but the following organizations are dedicated to advancing the role of the nurse practitioner.
These organizations can answer questions on educational requirements, credentialing, and licensure. But, they are also great resources for continuing education, conferences, practice recommendations, and publications.
The following organizations welcome inquiries regarding information or membership.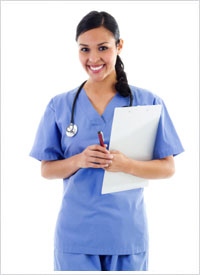 American Academy of Nurse Practitioners (AANP)
P. O. Box 12846; Austin, TX 78711
Phone: 512-442-4262
email: admin@aanp.org
Web address: http://www.aanp.org
American Association of Critical-Care Nurses (AACN)
101 Columbia
Aliso Viejo, CA 92656-4109
Phone: 800-899-AACN (2226)
Web address: http://www.aacn.org
American College of Nurse Practitioners (ACNP)
225 Reinekers Lane, Suite 525
Alexandria, VA 22314
Phone: 703-740-2529
Web address: http://www.acnpweb.org
American Nurses Credentialing Center
(Subsidiary of the American Nurses Association)
8515 Georgia Avenue, Suite 400
Silver Spring, MD 20910-3492
Phone: 800.284.2378
Web address: http://www.nursecredentialing.org
Gerontological Advanced Practice Nurses Association (GAPNA)
East Holly Avenue Box 56
Pitman, NJ 08071-0056
Phone: 866-355-1392
Web address: http://www.gapna.org
International Council of Nurses
3, Place Jean Marteau
1201 – Geneva Switzerland
Phone +41-22-908-01-00
Web address: http://www.icn.ch
National Association of Pediatric Nurse Practitioners (NAPNAP)
20 Brace Road, Suite 200; Cherry Hill, NJ 08034
Phone: 856-857-9700
email: info@napnap.org
Web address: http://www.napnap.org/index.aspx
National Certification Corporation
142 E. Ontario Street, Suite 1700,
Chicago, IL 60611
Phone: 312-951-0207
Web address: http://www.nccwebsite.org
National Council of State Boards of Nursing (NCSBN)
111 East Wacker Drive, Suite 2900
Chicago, IL 60601-4277
Phone: 312-525-3600
Web address: https://www.ncsbn.org/index.htm
Nurse Practitioners in Women's Health
505 C Street, Northeast
Washington, DC  20002
Phone: 202-543-9693
Web address: http://www.npwh.org
Oncology Nursing Certification Corporation (ONCC)
125 Enterprise Drive
Pittsburgh, PA 15275
Phone: 412-859-6104
Web address: http://www.oncc.org
Pediatric Nursing Certification Board
800 South Frederick Avenue, Suite 204
Gaithersburg, MD 20877-4152
Phone: (301) 330-2921 or 888-641-2767 (tollfree)
Web address: http://www.pncb.org