<!- mfunc feat_school ->
Featured Programs:
Sponsored School(s)
Sponsored School(s)
All school search, finder, or match results, as well as colleges and universities displayed as "Featured School(s)" or "Sponsored Content" are advertisers that compensate us for placement on this site. The resources, editorial content, and school evaluations published on this site are developed independent of the schools that advertise here.
<!- /mfunc feat_school ->
As healthcare providers and the public alike look at ways to make the best quality healthcare widely accessible, relying more heavily on highly skilled advanced practice registered nurses has proven to be a strategic imperative. Clinical nurse specialists will continue to be key to this shift, as they work to improve patient outcomes by applying theory and research to improve the efficiency and success of nursing systems. According to a 2010 survey by the National Association of Clinical Nurse Specialists, most CNSs work in inpatient hospital settings, while the rest worked in clinical settings that ranged from home health care to public health centers.
Clinical nurse specialists are registered nurses who typically hold a master's degree, at minimum, along with national certification denoting advanced knowledge and clinical skills specific to a particular patient population or specialized area of nursing. While working directly with patients, they implement treatment plans to resolve or mitigate medical or psychiatric issues.
<!- mfunc search_btn -> <!- /mfunc search_btn ->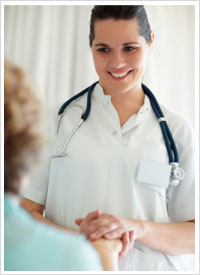 Beyond providing direct patient care, CNSs are also involved in shaping the larger healthcare system by serving as mentors to fellow nurses and by systematically applying observations of direct patient care to research. They interact with professionals at every level of the healthcare system, marshalling experience and advanced training to educate nurse peers and bring about systemic changes in an effort to improve practices that consistently result in improved patient outcomes.
Clinical nurse specialists also take up advocacy roles in committees and policy-shaping entities in an effort to improve upon the delivery of healthcare. In this sense, CNSs are imbedded experts who have a voice in changing the structure of health care as a whole. Ultimately, clinical nurse specialists work to apply the best research-based theory to create best practices.
Areas of Specialty and Patient Population Foci
Clinical nurse specialists practice in a wide variety of specialized areas and in many settings. As such, the National Association of Clinical Nurse Specialists (NACNS) has organized the definition of clinical nurse specialists into conceptual categories:
Population

Pediatrics
Gerontology
Family/Individual across lifespan
Women's Health/Gender related
Neonatal

Setting

Critical care
Emergency room

Disease or Medical Subspecialty
Type of Care

Psychiatric/Mental health
Rehabilitation

Type of Problem

Pain management
Wounds
Stress
Three Spheres of Influence
Clinical nurse specialists engage in three domains of practice, known as the three spheres of influence:
Patient/Client Sphere
Within the patient/client sphere, the clinical nurse specialist engages in direct patient care in a variety of settings, including acute care, private practice, or community clinics. While providing direct care, the CNS may consult with other nurses and modify a plan of care to conform to evidence-based recommendations within each specialized nursing practice.
Nurses/Nursing Sphere
Within the nurses/nursing practice sphere, CNSs influence patient outcomes through implementing evidence-based practice into the daily operations of nursing professionals. In effect, a CNS is an expert at bridging the gap between common clinical practice and state-of-the-art science by translating research into practical action. In a concrete sense, this translation occurs when the CNS interacts with nursing staff to elicit research questions while also mentoring nurses to implement practices based on the latest scientific research rather than resorting to habit or tradition. As such, the CNS serves as an advocate for positive change against the inertia of institutional history.
System/Organizational Sphere
Within the organizations/systems sphere, clinical nurse specialists work to influence the future of healthcare. As the complexity and cost of the health care system continues to increase, CNSs will utilize their expertise to positively influence the American health care system as a whole. Specifically, CNSs can wield their knowledge to provide a cost-benefit analysis of emerging medical products, interventions, and programs. Clinical nurse specialists perform analysis of preventative protocols that reduce costs to both patients and their payers, be it Medicare or insurance providers. For example, a panel of medical experts recently determined that women shouldn't be required to have yearly pap smears, except in particular cases. This move will not only drastically reduce costs and patient stress, but will also continue to safeguard women against a range of diseases despite the reduction in testing. This is merely one example of the many ways that Clinical nurse specialists' independent observations have been translated into sound medical policy.
Education and Degree Options
To be eligible for CNS certification, and ultimately for CNS recognition by state Boards of Nursing, licensed and practicing registered nurses with existing bachelor's degrees must obtain a master's, post-graduate certificate, or doctorate degree in nursing. To meet state Board and national certification requirements, most CNS candidates pursue a Master's of Science in Nursing with a concentration or specialized track specific to their patient population focus or medical subspecialty. Specific master's and doctoral level degrees commonly held by clinical nurse specialists include:
MS in Nursing – General
MS in Nursing: Clincal Nurse Specialist (bridge)
MS in Nursing: Community Health
MS in Nursing: Acute Care Track
MS in Nursing: Infection Prevention and Control
RN to Master of Science in Nursing
MS in Nursing: Community Care Track
MS in Nursing: Psychiatric and Mental Health
DPN (Doctor of Philosophy in Nursing)
DNP (Doctor of Nursing Practice) (BSN-to-DNP)
The aim of these programs is to prepare registered nurses with bachelor's degrees to move into leadership roles within their profession while acquiring advanced practice preparatory education in a specialized area of practice. Through clinical preceptorships, these programs help students apply nursing theory and research to direct patient care while advocating for improvements to healthcare delivery systems. This involves learning to interpret research and translate that knowledge into practice while working with fellow nurses to develop more efficient and effective protocols.
If a student is interested in pursuing a Master's of Science in Nursing part-time, there are both on-campus and online options available. While these programs do take longer than the two years required for a full-time degree, they offer flexibility and convenience to nurses who wish to continue their full-time work while pursuing a degree.
<!- mfunc search_btn -> <!- /mfunc search_btn ->
The National Association of Clinical nurse specialists has developed a list of seven core competencies to organize and formalize the evaluation of CNSs within advanced degree programs. These competencies serve to evaluate curriculum of advanced practice nursing programs for clinical nurse specialists and are expected to standardize expectations of programs across the country in the near future. The seven core competencies are as follows:
Direct Care Competency evaluates CNSs in their ability to directly interact with patients, families, and groups of patients to promote health and ultimately improve the quality of life of all patients. This competency is characterized by employing a holistic perspective when advancing the management of health, illness, and disease.
Consultation Competency evaluates the ability of CNSs to interact with patients and staff in a system-focused manner while exercising specialized expertise to solve problems.
Systems Leadership Competency evaluates the ability of CNSs to bring about practical change and empower others to influence clinical practice and political processes across the health care system.
Collaboration Competency evaluates the ability of CNSs to work jointly with others to optimize clinical outcomes. Ideally, CNSs will collaborate at an advanced level by committing to authentic engagement and constructive patient, family, and system-focused problem solving.
Coaching Competency evaluates the ability of CNSs to provide skillful guidance to fellow nurses in order to advance the care of patients, families, groups of patients, and the profession of nursing as a whole.
Research Competency evaluates the ability of CNSs to engage in thorough and systematic inquiry. Clinical nurse specialists are evaluated on the interpretation and utilization of evidence in clinical practice, and directly participate in research. In effect, CNSs analyze research findings for potential applications in clinical practice.
Ethics Competency evaluates the ability of CNSs to engage in ethical decision-making in terms of how well one can identify, articulate, and take action on ethical issues that impact patient, provider, community, and the health care system at large.
National Certification and Licensing
Requirements for licensure or recognition as a CNS vary from state to state; however, the National Council of State Boards of Nursing (NCSBN) has adopted a consensus model it advocates for use by state boards. While the NCSBN continues to work to implement a standard model, it is still necessary to meet the standards of the state in which one hopes to practice. In most cases, this requires earning certification by examination through a national certifying body recognized by the respective state Board of Nursing.
Sitting for a national certification exam requires that candidates meet specific eligibility requirements set by the certifying body. Although there is some variance in the requirements, most are generally similar:
Hold an active RN license
Hold a master's, post-graduate, or doctorate degree from a CNS program accredited by the Commission on Collegiate Nursing Education (CCNE) or the National League for Nursing Accrediting Commission (NLNAC)
Participated in a preceptorship of at least 500 faculty-supervised clinical hours within the specialty or patient population focus in which the CNS intends to become certified
Completed graduate program that included core competency courses of advanced physical/health assessment, advanced pharmacology, and advanced pathophysiology
This comprehensive list of national certifying bodies offer CNS certification specific to patient population, care type, and medical subspecialty. These certifications are accepted by most state Boards of Nursing for CNS licensure purposes:
Clinical nurse specialists may choose to further specialize with additional certifications specific to setting, care and problem type, as well as disease and medical subspecialty through the following organizations:
Students and prospective students of clinical nurse specialist programs should consult with their degree-granting program and state Board of Nursing to identify which national certification is acceptable and most appropriate for their area of practice. Contact the respective certifying body for specific eligibility requirements and details on preparing for national certification exams.
Clinical Nurse Specialist Salaries
According to a survey conducted by the U.S. Department of Health and Human Services, CNSs working full-time earned an average of $83,787. The survey also noted that CNSs were very satisfied with their principal positions, with over 91% being moderately or extremely satisfied.
<!- mfunc search_btn -> <!- /mfunc search_btn ->
The United States Bureau of Labor Statistics reports earnings in the general registered nurse category, which is inclusive of advanced practice registered nurses (APRNs) like clinical nurse specialists, as well as RNs without advanced training and education. The figures published by the Bureau are recognized to be lower than what would be expected for clinical nurse specialists due to the inclusion of non-advanced practice RNs.
According to the Bureau, in terms of medical settings, the highest average RN salaries are associated with nurses that work in physician offices ($70,530), medical and surgical hospitals ($68,610), and outpatient care centers ($67,550). Outside of traditional medical settings, registered nurses earn average salaries that differ based on industry:
Personal care services ($86,470)
Pharmaceutical manufacturing ($74,940)
Medical equipment and supplies companies ($74,930)
Colleges and professional schools ($74,180)
Resources for Clinical Nurse Specialists
The most prominent professional association for the advancement and recognition of CNSs is the National Association of Clinical Nurse Specialists (NACNS).  Founded in 1995, the NACNS exists to enhance and promote the unique contribution of the clinical nurse specialist to the health and wellbeing of individuals, families, groups, and communities, and to promote and advance the practice of nursing. NACNS promotes the profession and works on both a national and local level to make the contributions of CNSs more visible.
The National Association of Clinical Nurse Specialists is also affiliated with CNS professional associations that support specific communities. These include the Virtual Veterans Administration Nationwide Clinical Nurse Specialist Group and a number of state and regional professional associations located throughout the United States.
The Society for Clinical Nurse Specialist Education is an international professional association for nurse educators interested in advancing CNS education. This organization responds specifically to the changing needs of CNS education in the United States and elsewhere.
Still need more information? Click here to learn more about Clinical Nurse Specialists.
<!- mfunc feat_school ->
Featured Programs:
Sponsored School(s)
Sponsored School(s)
All school search, finder, or match results, as well as colleges and universities displayed as "Featured School(s)" or "Sponsored Content" are advertisers that compensate us for placement on this site. The resources, editorial content, and school evaluations published on this site are developed independent of the schools that advertise here.
<!- /mfunc feat_school ->