<!- mfunc feat_school ->
The nurse practitioner (NP) role was the most recent advanced practice registered nursing (APRN) role to be defined and developed. Their numbers have grown very quickly, such that NPs now outnumber APRNs serving in all other advanced practice roles combined (clinical nurse specialists, certified nurse midwives, and certified registered nurse anesthetists). In 2011, the American Academy of Nurse Practitioners reported that of the 267,000 APRNs in practice, more than 140,000 were nurse practitioners. With approximately 9,000 new NPs being licensed each year, it has become clear that this advanced practice role is invaluable to the healthcare system.
In other parts of the world, the development and growth of the nurse practitioner role followed the lead of the United States, and usually for the same reasons: to make up for a shortage of physicians or to mitigate the escalating cost of healthcare. The HIV epidemic in Botswana created a critical backlog of patients due to there being too few healthcare providers. Family NPs started working in clinics and had a dramatic effect on the number of individuals who were able to receive treatment there. Taiwan utilized NPs exclusively in hospitals for 20 years before developing a new curriculum to expand NP practice settings. For many years in Canada, it was more common to find nurse practitioners than physicians  practicing in rural regions or remote territories where physicians were less available. Today, Great Britain, Ireland, and Australia all have developing NP programs.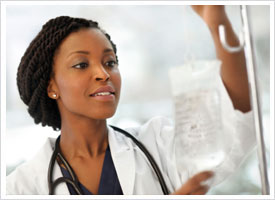 Interestingly, most countries have experienced growing pains and practice challenges similar to those reported in the United States. In more recent years, many NPs from the U.S. have been hired by healthcare providers and government agencies in other countries to provide consultation services to help initiate or refine foreign NP programs, offering guidance on scope of practice, educational requirements, licensing requirements, and legislation.
Population Foci and Specialty Practice Areas
The majority of NPs have been credentialed and practice in the family or adult patient population, and many have practice privileges in hospitals or long-term care facilities. While part of the original need for NPs arose out of the lack of healthcare services in rural areas, the American Academy of Nurse Practitioners reports that currently only 18% of NPs practice in frontier and rural regions. However, nurse practitioners are highly valued in these regions, and studies have acknowledged their role in increasing access to care in these medically under served areas.
The APRN Consensus Model has redesigned NP practice so that the focus is primarily on the patient population being served. An NP will be educated and certified in a specific population before additional specialty certifications are acquired.  In each population focus, the NP can practice as a generalist or acquire specialty certification for practice in one or more specialty areas.
Family covers the full lifespan including newborns, infants, children, adolescents, adults, pregnant and postpartum women, and older adults. The family NP typically practices in ambulatory care or private practice settings, focusing on the care and wellness of the family as a unit.
Neonatal includes pre-term neonates, infants, and babies up to 2 years of age. The neonatal NP works as a generalist or specialist in neonatal intensive care units (NICUs), well baby nurseries, and follow-up clinics.
Pediatric includes newborns, infants, toddlers, pre-school children, school-aged children, adolescents, and young adults up to 21 years of age. Practice settings cover a wide range, including ambulatory and acute care healthcare centers, inpatient facilities, surgical centers, school health offices, community health centers, and hospice practice settings.
Adult includes adolescents, young adults, middle-aged adults, and older adults. The primary focus of care is on the individual person, so these NPs can be found in primary care settings within general or specialty practices. It is worth noting that the proposed APRN Consensus Model recommends combining the adult and gerontological populations as one focus area.
Women's Health covers women across the life cycle (sometimes emphasizing the period of menarche through end of life). The women's health practitioner can work in women's health clinics as well as all of the settings in which adult care in provided.
Gerontological covers older adult age groups. Beginning at age 55, patients are classified as young-old, old, frail, and old-old adult. The NP in this focus area may work in multiple settings including long-term care facilities, ambulatory clinics, acute care centers, private practice, and home care. Essential skills are required for providing end-of-life care, including knowledge of holistic approaches to optimal health and palliative care. It is worth noting that the APRN Consensus Model recommends joining the adult and gerontological populations as one focus area.
Psychiatric/Mental Health covers all patient populations, although NPs have the option to specialize in child and adolescent or adult and geriatric patient populations. They diagnose and treat patients for all manner of psychiatric and mental health issues through pharmacotherapeutic and psychotherapeutic interventions within practice settings that range from private mental health practices to public health clinics.
In the past 20 years, many specialty certifications became available to nurse practitioners — from primary and acute care to diabetes management, oncology, school nursing, orthopedics, nephrology, palliative care, emergency medicine, and beyond. However, with the advent of the APRN Consensus Model, many changes are in development and the NP who is interested in a specialty area would be wise to explore accredited certification options after choosing a population focus.
Nurse Practitioners in Primary Care
Healthcare leaders, governmental agencies, and the public are all engaging in discussions regarding the increased need for healthcare providers in certain practice areas, namely primary care.
The primary care practitioner is educated in the delivery of comprehensive continuous care to provide patients with services throughout their lifespan. They are usually the first contact when a patient needs care and provide for most of their patients' non-urgent health care needs, including conditions of an acute or chronic nature. Primary care providers are also responsible for collaborating with other providers or coordinating specialist healthcare services for health care that is outside of the primary care sphere.
According to the American Medical Association, there is a growing shortage of physicians in the United States. Given that nearly half of all physicians provide primary care, the shortage is felt most acutely in areas with a need for greater access to primary health care services. Some AMA estimates project a shortage of 46,000 primary care physicians by the year 2025, with some estimates showing an even greater shortage. In addition to a growing shortage of primary care physicians, other key concerns include the aging of the baby-boom population, lack of health insurance, and, conversely, the potential for an increase in health care services for new patients under healthcare reform. The fact that many physicians place a limit on Medicare and Medicaid patient loads is yet another factor. The earning potential among specialists has also lead medical students to conclude that specialty care is a more rewarding patient care route.
In recent years, nurse practitioners have increasingly stepped into primary care roles to fill the shortage. Studies looking at patent outcomes and level of satisfaction have shown that the quality of primary care provided by NPs and physicians is comparable. While there is still a lack of physician agreement with regard to the NP scope of practice and competence, nurse practitioners have proven successful in building confidence in all areas of practice where they have been welcomed, or otherwise needed to fill a shortage. The Veteran's Administration has studied their use of NP-provided primary care and has concluded that it has reduced veteran patient waiting times for primary care visits. In addition, the study identified that NP care for patients with hypertension and diabetes is virtually indistinguishable from that provided by physicians. The Veteran's Administration has reported that an increase in the need for NP primary care will continue as the number of aging veteran's continues to rise.
A solution to the physician shortage issue that has proven successful in many urban and rural healthcare settings is physician and nurse practitioner collaboration within clinical practice settings. State legislative changes have helped to expand the nurse practitioner scope of practice in primary care by expanding prescriptive privileges and autonomy, and Congress has approved Medicare and Medicaid direct reimbursement for medical services provided by NPs. Expanding the NP scope of practice to allow greater autonomy, while increasing patient accessibility to NPs, appears to be a good strategy in both a pragmatic and economic sense.
Doctor of Nursing Practice
While the proposed Doctor of Nursing Practice (DNP) as a minimum requirement for APRN certification has not been universally accepted, it appears to be gaining support. The American Association of Colleges of Nursing (AACN) position statement on the implementation of the requirement states that one goal of the initiative is to prepare APRNs for independent primary care roles in a variety of settings. Many universities have initiated, or are in the process of developing, curriculum specifically designed for advanced practice nurses planning to earn a doctorate in preparation for primary care.
The American Association of Colleges of Nursing states that while there are many benefits to acceptance of the DNP as the minimum entry level degree for advanced practice nursing, one key benefit is that some leaders feel that it puts doctoral-prepared nurses on par with other healthcare professionals in clinical practice.
However, an American Nurses Association (ANA) publication expresses concern that simply changing the educational system does not address all of the other systems that would need to be evaluated and changed, including the systems in place for regulation, accreditation, and certification. Additionally, while many schools have created DNP programs, there are hundreds of non-doctoral post-graduate advanced nursing programs in the country that would face an uncertain future. While a few professional nursing organizations have pledged to accept, or accept with qualifications, the DNP proposal, many others are deferring the decision or rejecting the proposal at this time.
Many organizations involved in healthcare reform have expressed the opinion that advanced practice nurses should be utilized to the greatest extent possible. While there appears to be plenty of unresolved issues, academic institutions are actively creating DNP programs, even as dialogue on the subject continues.
State Licensure
The Nurse Practice Act is the state statute that defines the legal limits of practice for all nurses. Each state's Board of Nursing enforces, regulates, and oversees nursing practice throughout the state. Their responsibility includes the authority for licensing registered nurses and advanced practice nurses.
Each individual state Board provides a structure for the scope and standards of nursing practice, which also includes guidance for disciplinary action. In addition, each state Board of Nursing has evaluated and determined which national certification organizations will be authorized to evaluate nurse practitioner knowledge and clinical skill levels for that state. These certifying organizations coordinate testing services for NP graduates who have applied for a certification in a specialty area or population focus. In addition, the graduate NP must contact the certifying organization to request that completed certification information be sent to their state Board of Nursing. Finally, the new NP must contact the state Board to apply for prescriptive authority in jurisdictions where it is granted.
While all states require NPs to become licensed, variations in the scope of practice, level of responsibilities, options for autonomy, and prescribing privileges differ from one state to another. Some states allow NPs to manage their own case loads and practice independently, while others require physician collaboration.
Similarly, in Canada, NPs are licensed and regulated in the territory or province in which they practice.
Collaborative Agreements
In many states, a formal collaborative agreement between an NP and a physician is required, although it does not always require working together daily in the same practice setting. In some instances, as is the case in New York, the physician only needs to be available for consultation by phone and is only obligated to review the NP's charts every three months. Nurse practitioners may work in a physician's office on a collaborative basis, or they may be mutually employed by the same facility within an interdisciplinary healthcare environment. This type of collaboration involves a team approach to patient-centered delivery of medical services and is guided by professional standards in healthcare in general or within a specific healthcare organization. In either collaborative scenario, medical direction and supervision will need to be defined and attested to by both parties.
The state board requiring collaboration can provide information regarding the NP's scope of practice under a collaborative agreement, along with a sample written agreement. The document must be prepared by both the NP and the physician, and submitted to the state Board. In a number of states an NP's prescriptive authority is dependent upon an established collaborative agreement that identifies the categories of drugs the NP is allowed to prescribe, while specifying professional liability and emergency protocol.
Independent Practice
In the past, NPs have also been called physician extenders and mid-level practitioners – terms used to describe physician assistants and advanced practice nurses collectively. These terms can be misleading and have not helped to clarify the role of a nurse practitioner. Adding to the confusion, acronyms vary by specialty and certification and state NP titles. Several states have used RNP (Registered Nurse Practitioner), others have used ARNP (Advanced Registered Nurse Practitioner), CANP (Certified Advanced Nurse Practitioner), or CRNP (Certified Registered Nurse Practitioner).
While the APRN Consensus Model aims to reduce some of this confusion by bringing homogeny to state jurisdictions, another primary goal of the model is the removal of barriers to autonomous practice. At the present time, there are challenges to multi-state practice which can affect NPs in both urban and rural regions. Leaders in advanced practice nursing believe that independent practitioners will help to make much-needed advanced care more available in medically under served regions of the country.
At the present time, 24 state or U.S. Commonwealth Boards have enacted legislation to allow independent NP practice. That number is expected to grow in the next few years. Many NPs have already been in private practice for 10 to 20 years and have contributed to the development of the private business concept for nurse practitioners.
Independent practice can be defined in several ways because, by licensing authority, NPs must provide services that are within the scope of practice established by their licensing body. Whether the NP must abide by state collaboration requirements or not, practice itself primarily requires independent, albeit sometimes interdependent, decision-making. Nurse practitioners, by the very nature of their work, are professionally accountable for the clinical judgment used in managing patient care.
Independent practitioners who have established a private practice must be licensed in a state that does not have regulatory requirements that stipulate direct supervision as part of collaborative practice agreements. Some NPs have hospital admitting privileges, and all NPs must recognize the need to consult with other healthcare providers and refer patients as appropriate.
Since Congressional approval in 1997, NPs who provide healthcare services to Medicaid or Medicare enrollees are allowed to receive direct reimbursement. However, the implementation has had some challenges depending on the state of practice and whether or not the NP has a collaborative relationship with a physician. To add to the confusion, Medicare and Medicaid do not have the same payment policies for NPs. Some states allow Medicaid direct reimbursement to all NPs, while others limit direct payment to pediatric and family NPs. State Medicaid programs also differ with regard to paying NPs at the same rate as physicians for the same services. Professional organizations and state Boards have worked hard to affect continuing policy change for payment and service. For example, the Centers for Medicare & Medicaid Services (CMS) now mandate managed-care organizations to offer nurse practitioner services for Medicare and Medicaid patients. While third-party payment for NP services in general is improving, there are still complex rule discrepancies and other inconsistencies from one payer to another.
Liability Insurance
The question of insurance coverage for professional liability will depend on several factors, including the employer, work setting, scope of practice, and state requirements. Every nurse practitioner should review the malpractice insurance coverage offered by his or her employer to ensure that it covers all practice and procedural activities within their scope of practice. If not, the NP has the option to purchase additional malpractice insurance or work with the employer to re-evaluate certain aspects of practice. For NPs working in a private practice, it is important to ask to be a 'named insured' on the employer's policy, and determine whether or not there are any limitations on practice coverage.
Some states require that all advanced practice registered nurses, including nurse practitioners, carry personal professional liability insurance. This protects the individual nurse beyond any insurance coverage provided by an employer in the event of patient complications related to drug or procedural treatment. Many states require a minimum dollar amount of insurance per practitioner, per occurrence. For example, the state of Connecticut has a minimum requirement of $500,000 coverage per person, per occurrence that must be maintained by all advanced practice registered nurses that provide direct patient care.
Nurse practitioners practicing independently will always need an individual professional insurance policy. Experts recommend 'occurrence' type coverage because it covers an incident that occurred during the time the NP was insured. Some other types of coverage are only effective when the policy is active and would not cover an incident that occurred before an NP retired or left the practice, but that was challenged afterwards. Medical malpractice experts suggest purchasing a policy that also includes the services of an attorney to represent the individual nurse practitioner independent of the organization for which the NP works.
When choosing insurance coverage, it is wise for nurse practitioners to find a company that has been in business in the United States for at least 10 years and that has a good financial and business rating. An insurance provider can become a valuable support system in the unlikely event of a lawsuit.
The History of Nurse Practitioners Infograph.