<!- mfunc feat_school ->
Featured Programs:
Sponsored School(s)
Sponsored School(s)
All school search, finder, or match results, as well as colleges and universities displayed as "Featured School(s)" or "Sponsored Content" are advertisers that compensate us for placement on this site. The resources, editorial content, and school evaluations published on this site are developed independent of the schools that advertise here.
<!- /mfunc feat_school ->
A registered nurse is a healthcare professional who has been licensed by the state to provide and coordinate patient care after receiving specialized education and passing a comprehensive national test (NCLEX-RN). RNs work in a wide range of direct patient care roles and are able to specialize in any field in medical care today. They can also work in healthcare consulting and education roles outside of the clinical setting.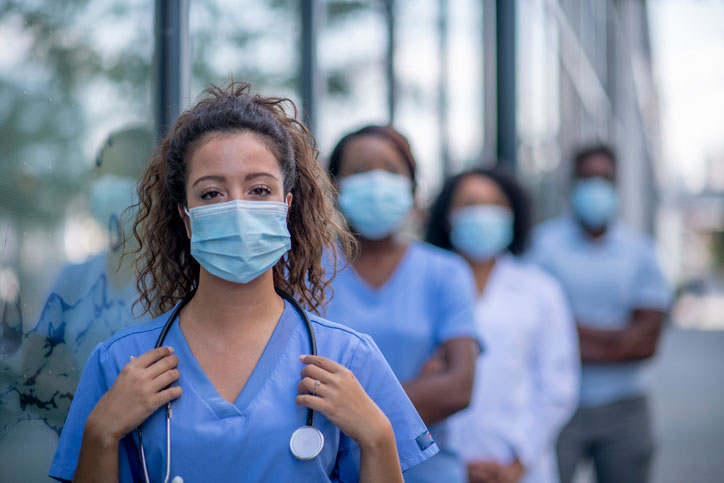 For the past two decades, polling firm Gallup has been asking Americans about which professions they trust the most as part of their annual Social Series Polling. And once again, the most recent results came back showing the same profession has come in number one on every single one of those polls: nursing.
Registered nurses receive high marks for their ethics and honesty from almost 90 percent of Americans. That's a kind of consistency, and a kind of praise, that tells you everything you need to know about the kind of respect registered nurses deserve.
Almost everyone has either been under the care of a nurse or seen a loved one being treated by a nurse at some point in their lives. So that respect has been earned directly and in-person. The level of individual care, dedication, and compassion they offer to patients and families can really leave an impression on people.
With high salaries, massive respect, and wide availability of a huge and interesting variety of jobs, registered nursing is a fascinating career choice.
If it's one you're considering, then keep reading to see what makes a registered nurse and what they do on the job every day.
---
The Job Description of an RN – What Registered Nurse Jobs are Really All About
Understanding the Unique Role of RNs in Comparison to Other Types of Nurses
How to Become a Registered Nurse in 4 Steps
---
The Job Description of an RN – What Registered Nurse Jobs are Really All About
Registered nurses are best known for the vital work they do in direct patient care. Even as diverse and specialized as that kind of work can be, their expertise doesn't end there. As such a key part of every aspect of the American healthcare system, it's impossible to narrow down a single job description that fits all the roles they fill.
<!- mfunc search_btn -> <!- /mfunc search_btn ->
You'll find RNs in roles you may never have even thought of – legal nursing consultant, nursing informatics specialist, clinical administrator, nutrition and fitness nurse, or transplant coordinator, just to name a few.
The wide variety of jobs available in nursing can take nurses all over the country and into every healthcare specialty field, not to mention research and policy work.
But it's true that the vast majority of nurses work in direct patient care, even if it covers all different types of specialized functions. In general, you can think of a typical nurse job description as including responsibilities for:
Assessing and prioritizing patient care needs
Monitoring patient status and vital signs
Updating medical charts
Developing daily care plans
Perform treatment and administer drugs according to physician's orders
Communicate with patient families
Coordinate care between specialists
Along the way, they offer care, support, confidentiality, and a holistic approach to healthcare that no other doctor or medical specialty can offer.
Holistic Healthcare is Part of What Makes Nursing Unique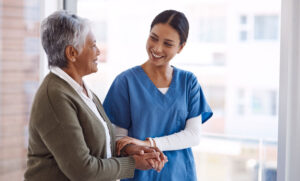 Holistic Healthcare is the practice of healing the whole person, rather than just focusing on the specific illness or injury that brought them to you.
Holistic healing isn't just a set of steps. It's an attitude, an approach to offering care and treatment that helps make a person whole again, and treats them as more than their illness.
Other healthcare professions have increasingly zoomed into specializations, focusing on narrower and narrower parts of the body or types of disease. Nurses can follow all those specialties to, but their training makes sure that even when they do, they still recognize the interconnections between the illness, the patient's social circle, lifestyle, family, and other important parts of life. And the treatment that nurses offer with that understanding provides a more individualized, more caring experience to the patient.
That's a big part of the reason nurses rank and will continue to rank at the top of professions Americans place their trust in.
What is the Registered Nurse Scope of Practice?
Scope of practice describes the professional and legal description of the types of services that a registered nurse is allowed to perform. Those rules are put in place by a combination of state laws and more specific regulations established by state nursing boards. They draw the bright lines between exactly what tasks and services are allowed for a doctor, a nurse, or an advanced practice nurse. Who you treat, how you can treat them, and even when and where are part of the RN scope of practice.
A scope of practice can be extremely detailed. You will find that they outline your duty of care, obligations once treatment is started, and what qualifications you need in order to perform procedures like airway insertion or decompressing a tension pneumothorax.
Because of how the scope of practice for nursing is defined, it's not completely identical from state to state. You'll be expected to learn the rules for the state you are licensed and practicing in.
What Are Some Registered Nurse Work From Home Jobs?
If you are starting to explore the idea of remote registered nurse jobs, you're definitely not alone. Considering all the different types of jobs that RNs can fill, combined with the rapid shift to remote work caused by the COVID-19 pandemic, you'll find lots of options if you are looking at work from home jobs for RNs.
That can include a lot of jobs that were traditionally done in-person. RNs now handle intake screening over the phone in many places and offer quick consultations that keep people out of emergency rooms and urgent care centers all without leaving the comfort of their living rooms.
RNs also can monitor patient telemetry remotely, either for individuals who are also in their own homes and need special attention, or for those in hospital inpatient units that require constant attention.
There are also ever-increasing numbers of RN jobs in informatics, the specialty area that deals with the organization, storage, and analysis of online medical information. In a field that is already fully computerized, it's easy to find jobs that can be done from anywhere you can find internet access.
You Can't Really Talk About Modern Registered Nursing Without Talking About Florence Nightingale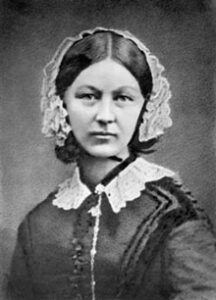 An Englishwoman who was born in 1820, Nightingale received an unusually broad and liberal education due to her wealthy father, and expressed an early interest in healthcare. While she was serving as superintendent of Institute for the Care of Sick Gentlewomen in London, the Crimean War broke out.
Hearing of horrific conditions among wounded at the front, Nightingale assembled and trained a staff of 38 nurses according to her own system of nursing. She placed an emphasis on hygiene, nutrition, and holistic environmental care for injured soldiers. Some sources attribute her methods for reducing death rates from 42 percent to 2 percent among the wounded.
Her holistic approach to patient care, combining medicine with considerations of other factors that influence a patient's health remains a core principle of modern nursing. The curriculum you will learn in any nursing program in the United States, and even the idea that nurses should be professionally trained in the first place, both came from Nightingale.
Understanding the Unique Role of RNs in Comparison to Other Types of Nurses
The term "nurse" actually is used as shorthand for any kind of nurse, from nursing aides all the way up to nurse practitioners. There's a wide range of different levels of education and responsibilities involved.
<!- mfunc search_btn -> <!- /mfunc search_btn ->
Registered nurses are a specific kind of nurse, however, with their own type of license and capabilities.
With several different nursing classifications, it can be helpful to understand what an RN is by clarifying which nursing professions fall within the RN designation:
What are licensed practical nurses (LPN) and licensed vocational nurses (LVN)?
LPNs and LVNs are NOT registered nurses. They often work under the supervision of RNs, as well as physicians and APRNs. They are qualified through LVN/LPH certificate programs and by passing the NCLEX-PN exam. Only a handful of states offer LPN and LVN licenses, and though the scope of practice varies from state to state, it is always far more restrictive that the scope of practice for RNs.
What is a certified nurse assistants/aide?
CNAs are NOT registered nurses. They work under the supervision of RNs and LPNs/LVNs. CNAs typically hold a high school diploma, complete a CNA certificate program, and pass a state competency exam. The scope of practice for CNAs is typically limited to providing patients with basic care needs, transportation, and daily exercise routines.
What is an APRN?
APRNs ARE registered nurses with specialized training and advanced skillsets that allow them to take on cases independently of doctors and rely on their own medical judgement in diagnosis and treatment. They must have master's degrees or higher and already have been licensed as RNs before becoming APRNs.
What Are Registered Nursing Specializations?
Modern healthcare technology has come a long way since Florence Nightingale started training nurses. All the different specializations of medicine come along with corresponding specializations in nursing. Everything from pediatrics to oncology, and even combinations like pediatric oncology. If you have an interest in a particular area of patient care, you'll find an RN role that fits – acute and critical care, cardiology, emergency, endocrinology, forensics, hospice and palliative care, infection control, nephrology, orthopedics, public health, perioperative, radiology, rehabilitation, and the list goes on. Each of these roles calls for nurses who have specialized training and experience. That specialization allows them to offer the best possible care to the most complex cases using the latest in research and techniques.
Nursing specialties can offer higher salaries than generalist nursing positions. You are also held to higher standards of education and training, however. Specialties can also narrow down the type of patients you will work with… geriatric specialists will never end up working with children, for example.
How to Become a Registered Nurse in 4 Steps
Registered nursing is a popular and rewarding career path, but it's not always easy to get started. That skill and trust that the public places in nurses has to be learned and earned. And after you get it, you have to work hard to keep it. The field of healthcare is constantly evolving, and nurses have to keep evolving with it.
1. Getting The Right Education to Become a Registered Nurse
You first step will be getting the specialized education that is necessary to become a nurse. Not only do you need that training to pass the all important NCLEX-RN test for licensing, but also to become a competent and complete patient care provider.
Do You Need To Consider Accreditation When Earning a Nursing Degree?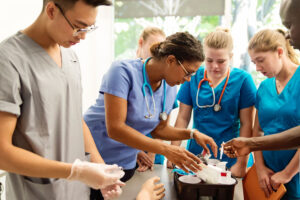 Nursing is a highly specialized field which requires a carefully determined curriculum and the right kind of instructors and educational support to assure both licensing agencies and employers that you know your stuff. To make sure you're enrolled in a program with that kind of quality, you'll need to pick one that holds a specialty accreditation from either the Accreditation Commission for Education in Nursing (ACEN) or the Commission on Collegiate Nursing Education (CCNE).
Most students enrolling in college in the United States for the first time don't have to think much about accreditation. Every two- and four-year college you've ever heard of probably has a general accreditation from an accrediting agency recognized by the Department of Education, meaning they hold all the basic standards needed to offer legit degrees.
But these two organizations offer a more specialized, in-depth review of the kinds of coursework, the quality of instructors, and the availability of resources in nursing programs. That's why state nursing boards typically require that you graduate from an accredited program in order to be eligible for licensure.
ACEN accredits all levels of nursing degrees, while CCNE only offers accreditation to bachelor's and master's-level degrees.
What Kind of Coursework Do You Study in Nursing Education Programs?
All registered nurses need the same foundational knowledge to get started in their careers. That means no matter what type of program you enroll in to qualify as an RN, you will take classes on subjects such as:
Pathophysiology and diagnostics – A basic understanding of the mechanisms and symptoms of disease is crucial for all types of registered nurses. Your classes in these subjects will include gross anatomy, body systems, and human lifecycle development. You'll learn how these operate together and how they break down in the face of injury or disease. Just as important, you'll learn the basic diagnostic approaches to understanding what is going wrong, from how to take a blood pressure reading to administering advanced lab tests.
Pharmacology and pharmacotherapeutics – Many modern medical treatments revolve around the use of drugs. While only doctors or advanced practitioners can prescribe these medications, it is almost always nurses who actually administer them. RNs serve as an important final safety check in drug therapies, so they have to learn the dangers of interactions and the proper ways to inject or distribute pharmaceuticals to patients.
Community and population healthcare – One of the big differences between nurses and doctors in their approaches to healthcare is the holistic perspective that nurses take when evaluating and caring for patients. Understanding how health reflects what's going on in a particular community is an important part of that. RNs all receive some level of instruction in vital matters of public health, learning how social trends can influence diet and exercise, as well as how to spot the dangerous signs of emerging communicable diseases.
Ambulatory care – Nurses function as the transition point for patients who are moving between in-patient and out-patient settings. They are also often called on to be the primary point of contact and deliver most services for outpatient procedures. You can expect any nursing degree to come with coursework that teaches you how to communicate with patients, deliver at-home care instructions, and manage the demands of outpatient treatment.
Practical care skills – The meat and potatoes of your courses will be the basics: how to apply a dressing, take a temperature, draw blood. The little tips and tricks that help you hit a vein on the first try or open up a nasal cannula pack without creating a hopeless snarl of tubing are the kinds of things you'll cover in these classes. They'll also go into the essential elements of nursing, the individual care and attention to detail and personal considerations that truly offers the nursing touch.
The more advanced your degree, the more you will dive into the details on these subjects and also study associated material like:
Psychosocial nursing
Health equity
Healthcare informatics
Healthcare systems and policy
Interprofessional practice
Fully accredited programs are also required to include practical clinical experience as part of the degree coursework. That results in practicum placements in actual healthcare settings, where you will first observe current registered nurses on the job. Eventually, you'll also practice what you have seen and learned on live patients. It's a core part of a practical nursing education.
What Education is Needed to Become a Registered Nurse?
The level of degree that you choose to pursue for your nursing license will depend a lot on where you see yourself taking your career. Although you don't necessarily have to pick the right path when you first enroll, you can get some idea of what kind of education you will eventually need if you understand how different kinds of nursing degrees affect your short and long-term career prospects.
Registered Nurse Degree / Registered Nurse Associate Degree
An ADN (Associate Degree in Nursing) gives you a fast, two-year path to earning your license. These degrees focus almost entirely on basic nursing skills and giving you the knowledge you need to get past the NCLEX-RN. And not only is it two years faster than the next fastest option, but it's also considerably cheaper. That makes the associate's route accessible for many people who couldn't otherwise afford to become an RN. And associate's degrees are often transferable, so you can still go back and complete your BSN later.
How to Become a Registered Nurse with a Bachelor's Degree
You can become an RN with only an associate's degree, but bachelor's programs are increasingly becoming the standard for registered nurses across the country. The BSN, or Bachelor of Science in Nursing, doubles the amount of education you get. It also takes it beyond just core nursing concepts. You pass the same type of general college courses that any bachelor's program requires, which gives you better communication, leadership, and cultural competency skills. More and more entry-level nursing positions are looking for BSN-prepared candidates. They are also faster and more likely to advance into management positions.
Becoming an Expert or Advanced Registered Nurse with a Master's Degree
A Master of Science in Nursing – the mighty MSN – is more closely associated with advanced practice registered nursing, but it's also an option for RNs who are looking to advance their careers to the highest levels of practice or management. An MSN adds in research and expert-level instruction in a variety of nursing specialty areas.
Are you interested in becoming a nurse administrator? An MSN can give you the kind of organizational and management skills you need to be very competitive for those kinds of jobs. Maybe you want to branch out into nursing informatics or public health nursing. Those are complicated, highly technical jobs that really benefit from the kind of advanced classes that you will get in a master's degree program.
Of course, a master of science in nursing is a path to advanced practice licensure, too. The MSN gives you the advanced practical care skills to make decisions typically reserved only for doctors, and to care for patients and prescribe medications independently in many states.
Should You Consider a Doctor of Nursing Degree as a Registered Nurse Going Into Advanced Practice?
Absolutely, a practice-focused DNP is definitely worth considering as a path into advanced practice nursing, and for many it's an obvious choice over the MSN. Several years ago there was some momentum behind the idea that the DNP should become the new standard minimum for NPs and other advanced practice nurses. That push has abated a bit for the simple fact that it sets the bar for entry pretty high at a time when the country is already struggling with a shortage of advanced practitioners. A DNP isn't required to become a nurse practitioner or other APRN, but it's still a power move to earn one.
At the absolute top level of the profession of nursing, you will find nurses who are also doctors: doctors of nursing.
It's not as confusing as it sounds. A doctorate, or PhD, is the most advanced degree granted in any field. You'll also hear it called a terminal degree, since it represents the end of the line in education for the field. In nursing, it involves an additional three or more years of study, with more in-depth courses and more independent investigation into a specialization of your choosing.
Doctorates in nursing come in two main varieties, though, and it's important to understand the difference.
Doctor of Nursing Practice (DNP) – DNP degrees are practice-focused degrees that skip a lot of the theory in favor of more practical clinical leadership skills. For this reason, they are aimed entirely at advanced practice registered nurses and clinical leadership. The move in the field is to make the DNP the standard credential for qualification as a nurse practitioner. That means you'll find DNPs are focused on one of the specialty areas of advanced nursing practice, and cover a lot of ground in practical, clinical diagnosis and treatment, with less research and theory than the DNS or PhD.
Then you have the more traditional, theory-based and research intensive options:
Doctor of Philosophy in Nursing (PhD) – A PhD is held to be the standard level of preparation for nurses who want to go into nursing research or academic positions. It is heavily research focused, with an emphasis on producing graduates who can go on to become professional instructors or develop original thinking and scientific evidence to support nursing practices.
Doctor of Nursing Science/Doctor of Science in Nursing (DNS/DSN) – The DNS or DSN doctorate is far less common these days than either a PhD or DNP. It's a professional degree, which means it is aimed at senior nurses who want to advance their education and credentials to take up management and leadership positions in healthcare. The program includes both research and practical training, aimed at solving real-world problems and developing leadership talent in graduates.
A doctorate puts you in the upper echelon of registered nurses.
A doctoral degree in nursing is a solid choice if you're looking to become a professor, a lead clinician, or a nursing executive in healthcare organizations.
Some doctors of nursing also end up in government or nonprofit organizations, developing healthcare policy at the highest levels for the country.
2. Pass The NCLEX and Earn Your Registered Nursing License
Although all registered nurse licenses are issued by individual states, every state uses the same key test to determine your eligibility: the National Council Licensure Exam, or NCLEX. The NCLEX-RN is a standardized online test based on practical nursing skills and knowledge, divided into four main parts:
Safe and Effective Care Environment

Management of Care
Safety and Infection Control

Health Promotion and Maintenance
Psychosocial Integrity
Physiological Integrity

Basic Care and Comfort
Pharmacological and Parental Therapies
Reduction of Risk Potential
Physiological Adaptation
As an online, adaptive test, there's no fixed number of questions. You can get between 75 and 145 multiple-choice questions, depending on how you answer previous questions. The entire test must be completed in four hours.
Once you pass the NCLEX-RN, you're eligible to apply to your state board of nursing for a license. You'll have to give them your test exam, proof of education, and usually pass a criminal background check along the way.
3. Get a Job as a Registered Nurse
Once you have your state registered nursing license in hand, you can really open up all the options that nursing allows you. Even after going through nursing school, you probably won't really understand how many different things you can do with a nursing license. And you may only have hints of how lucrative the job can be, and how rewarding.
Nurses work in any place where human beings live and work. Their adaptable, practical healthcare skills are always going to be in demand. And the ways they can put those skills to use mean there are thousands of different types of specializations and environments you can work in as an RN.
Where Do Registered Nurses Work?
Because there are so many nursing specialties and so many industries that can use the professional knowledge of registered nurses, you can find them working in all kinds of unlikely places.
What Are The Most Unusual Nursing Jobs?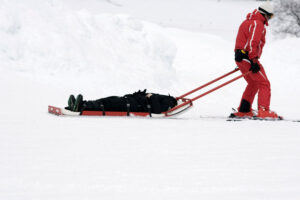 You can find American nurses working in exciting and challenging jobs everywhere from McMurdo Station in Antarctica to Point Barrow, Alaska. Their skills are needed everywhere you find people, and their work ethic is unmatched. And that means you can find some pretty strange nursing jobs out there, if you're interested in a challenge.
Hyperbaric nursing specialists work with pressure-related injuries and treatments. They work with specialized equipment designed to operate at several atmospheres of pressure, sometimes with exotic gases. They may monitor or treat deep-sea divers who work and live in those environments, and deal with emergencies that come up at the sea bottom. It's definitely a unique environment for practicing healthcare!
Going in the other direction are flight nurses. They specialize in providing treatment to patients in flight, usually in transit between facilities, or working with pilots or other aviators who have their own special needs and challenges in healthcare.
Or if a different kind of high piques your interest, there's always the emerging field of cannabis nurse. With the emergence of medical marijuana as a legitimate treatment for a wide range of ailments from chronic pain to anxiety, legitimate registered nurses are needed for consulting and monitoring of this unique patient population.
According to the Bureau of Labor Statistics, though, most nursing positions are concentrated in these five industries:
General Medical and Surgical Hospitals
Offices of Physicians
Home Health Care Services
Outpatient Care Centers
Nursing Care Facilities
RN Salary – What is the Salary of a Registered Nurse?
According to the Bureau of Labor Statistics, the median annual salary for registered nurses in 2020 was $75,330. Of course, that figure is affected by many different factors, including:
Level of education
Years of experience
Specialization
Region
Industry
BLS also breaks out salary by industry. In 2020, the medians in different industries where RNs are commonly employed were:
Government – $84,490
State, local, and private hospitals – $76,840
Ambulatory healthcare services – $72,340
Nursing and residential care facilities – $68,450
Educational services – $64,630
The top tier of nurses is small but makes considerably more. In 2020, those in the top ten percent of the profession earned more than $116,230.
What is the Job Outlook of a Registered Nurse?
You've probably been hearing a lot about the shortage of qualified registered nurses in the United States over the past decades. The reality is more complicated. In 2017, the U.S. Department of Health and Human Services published a report estimating that at least seven states will have a deficit of RNs of more than 10,000 positions, while at least four will actually have an excess of nurses of that many or higher.
So your job outlook as a nurse may depend a great deal on where you choose to practice after graduating from college.
<!- mfunc search_btn -> <!- /mfunc search_btn ->
According to BLS, the projected job growth rate for registered nurses overall will hit 7% between 2019 and 2029, a faster rate than the average increase in jobs across the country.
4. Keep Your Registered Nurse License Current
Healthcare in general and especially nursing are fields that are constantly changing. You may have learned all the basics you needed in your nursing degree program, but in a few years, those skills might rank right up there with slapping leeches on patients as a form of therapy.
That means you need to stay current in order to stay licensed. Every state requires that your RN license be renewed on some set period, often two years.
During the course of those two years, you're expected to take continuing education courses or perform other activities that will keep your skills up to the level of modern scientific healthcare. In California, for example, every RN has to complete at least 30 contact hours of continuing education in order to renew their license.
It can't just be any old online course, either. Most states require that you earn your hours through a state-approved continuing education provider. But most will also except accredited college coursework, with a certain number of semester units of credit counting as a specific number of contact hours.
You can also get your CE through teaching, once you get to a level where that is possible. In other cases, you may be able to count presentations at conferences or research papers that you contribute to.
The real goal is to ensure that nurses are always up to speed and equipped with the latest information to benefit their patients.
No matter what specialized training registered nurses have or add to their portfolio, though, the most important tool they bring to the job will always be their own empathy. Caring for patients on a deep individual level is something that every nurse can offer that almost no one else in the field of medicine thinks about. Registered nurses are likely to be the most trusted profession in the country for decades with their unique combination of empathy and experience.