<!- mfunc feat_school ->
Featured Programs:
Sponsored School(s)
Sponsored School(s)
All school search, finder, or match results, as well as colleges and universities displayed as "Featured School(s)" or "Sponsored Content" are advertisers that compensate us for placement on this site. The resources, editorial content, and school evaluations published on this site are developed independent of the schools that advertise here.
<!- /mfunc feat_school ->
One of the most notable ways the healthcare field has evolved in recent decades is its newfound concern with patients' mental health in addition to their physical wellbeing. Medical professionals are beginning to understand the profound interrelationship between our emotional lives and our bodies' ability to regulate itself, from maintaining healthy functions to warding off illness and disease.
The approach to medicine that considers the connection between mind and body is called holistic care. Once a fringe school of medicine embraced only by unconventional healthcare practitioners, holistic care has grown to become a widely accepted approach that is crucial to understanding the whole picture of our health.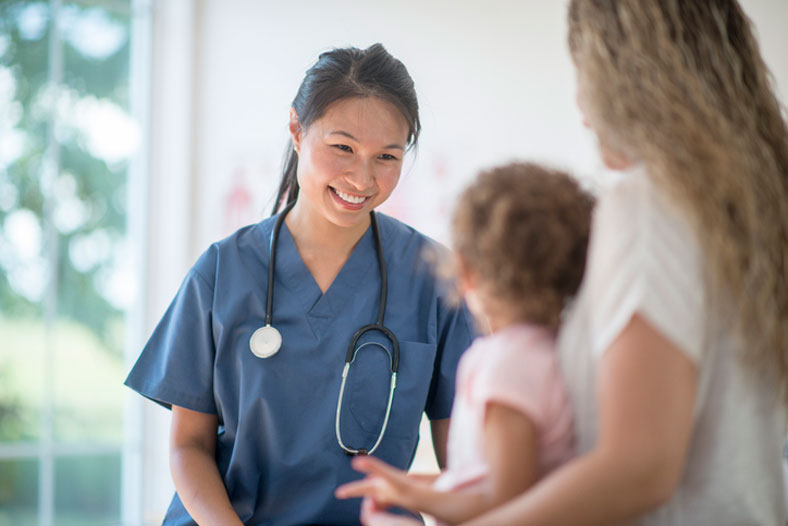 Many working nurses are personally invested in pursuing holistic medicine, as they often are the medical professionals who spend the most up-close time with patients.
If you are a registered nurse (RN) who is interested in learning more specifically about holistic practices, good news: there are numerous graduate nursing programs that will help you do just that.
By learning about holistic care in nursing, you'll be at the vanguard of a movement that is changing how medicine is approached today. Mental health nursing is only growing in importance, and your studies will not only allow you to keep up with this exciting new field but also to participate in its development.
This article will cover the fundamentals of holistic care in nursing, with information about diagnosing and treating patients with mental health disorders, conducting mental health assessments, and the top graduate nursing degree programs to pursue this education. To learn how to take the next steps into this exciting graduate nursing specialization, read on.
Understanding the Mental Health Needs of Patients
One of the key factors leading to the development of holistic care was the discovery that many patients are dealing with mental health issues that impact their overall wellbeing. Nurses played an instrumental role in this discovery, witnessing these needs directly and providing firsthand testimonials to inform this groundbreaking research.
Indeed, scientists are beginning to detect the crucial role of mental health in healthcare outcomes, with those who are receiving proper mental health treatment exhibiting higher rates of success. This demonstrates the importance of understanding mental health care planning and incorporating it into your nursing practice, as it can make a significant difference in patients' experiences.
Incorporating a holistic approach into your nursing practice requires significant training and a deep knowledge of mental health disorders. Graduate nursing programs with a holistic focus will give you the framework to understand how these issues work and what you can do as a healthcare practitioner to better address patients' individual needs.
Incorporating Mental Health Assessment into Practice
With a graduate nursing degree, you can be qualified to conduct mental health assessments for incoming patients that will be used to create a more nuanced understanding of how to best approach their treatment. This can be vital to understanding some of the underlying causes of patients' conditions and can substantially impact their recovery. (It's worth noting that not all graduate nursing programs will be so devoted to mental health nursing – if this is what you are most interested in, be sure you are selecting a school that offers it as a concentration.)
In order to conduct a productive mental health assessment, you will have built up an extensive knowledge of the signs and symptoms of mental disorders. Your discernment and attention to detail will be critical to making correct diagnoses and relaying them to your nursing cohort and the doctors you are working with.
Graduate nursing programs with a focus on holistic care will teach you the most current evidence-based tools and techniques relied upon to detect mental health disorders. Given that the discipline of holistic care is expanding at such a rapid rate, there is new research coming out at a rapid clip, so you will be expected to follow the updates closely. Fortunately, this is an aspect of mental health nursing that most practitioners find to be stimulating and engaging.
Collaborative Care and Interprofessional Approach
Your graduate nursing degree program will also help you cultivate your ability to work in collaboration with other medical personnel. If your education has a holistic focus, you may find that you need to educate those you work with about your approach, as not all medical workers are so attentive to mental health concerns. However, you can trust that your efforts will be of great value to your patients and fellow practitioners.
In fact, employing an interprofessional approach is an important way of delivering truly holistic care.
This is because patients are observed and assessed by a variety of professionals with different specialties. From this variety of observations and insights, a healthcare team can put together a complete picture of a patient's status, which is to everyone's benefit. As an advanced practitioner registered nurse specializing in mental health, you will be able to lead the charge in creating more comprehensive standards of patient diagnosis and treatment.
Therapeutic Communication and Empathy
One of the core competencies needed to be an effective nurse is communication. While this is considered a "soft skill" that one primarily comes by innately, graduate nursing programs can help give you the tools needed to interact with a wide variety of patients, addressing their concerns with professionalism and empathy. This is especially useful when dealing with patients who are undergoing mental health crises, as the compassion of outsiders can be instrumental in quelling the worst symptoms and building trust in the medical system overall.
Indeed, even nurses focused on issues that may seem completely removed from therapeutic services can benefit from an understanding of therapeutic communication. After all, the paradigm for holistic care in nursing incorporates an understanding of psychology into its approach. This is to say that holistic medicine assumes that all medical issues – even those that seem unrelated to mental health – can benefit from an understanding of patients' emotional states.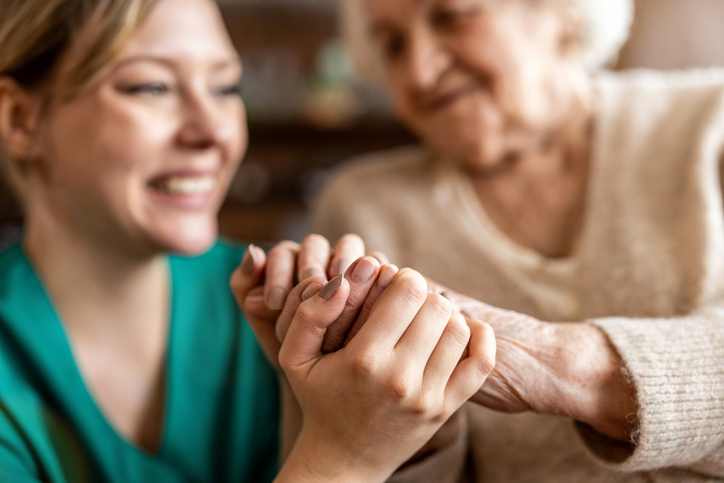 Psychopharmacology and Medication Management
If you are interested in psychiatry, it is possible to enroll in a graduate nursing degree program that will allow you to take it on as an area of specialty. Psychiatric nursing can be greatly beneficial in supporting a holistic medical program, as it takes into account the influence of pharmaceuticals on patients' mental and physical states.
If you are a nurse with a psychopharmacology specialization, your job is likely to include the following:
Understanding common psychotropic medications
Collaborating with healthcare providers to monitor medication efficacy and side effects
Educating patients about medication adherence and self-care strategies
This will make you a practitioner with uniquely refined insights into the needs of patients with all sorts of mental health backgrounds, allowing you to serve as a crucial ally for those who might otherwise not get the attention they need.
Self-Care for Graduate Nurses
Those who study holistic practices in their graduate nursing degree program should also be sure to keep in mind one other hugely important part of mental health in nursing: taking care of yourself.
Nursing is a deeply rewarding job, but it can also be a deeply challenging one, with long hours, high stakes, and difficult work. This is why nurses must also make sure to tend to their own mental health.
Indeed, maintaining good mental health is not only beneficial for nurses personally but also for their professional performance. When nurses prioritize their mental well-being, they are more likely to have improved concentration, decision-making abilities, and job satisfaction. By managing stress and practicing self-care, nurses can reduce the risk of errors, enhance their communication skills, and maintain a positive attitude towards their work. Prioritizing mental health enables nurses to function at their best.
Cultural Competence and Mental Health
In addressing mental health care for patients, it's crucial to note the significance of cultural factors in determining patients' needs. This allows you to perform your job without judgment, opening up free conversation with your patients so that you can provide comprehensive care.
Some of the cultural factors that may arise in interactions with patients include the following:
Racial and ethnic background
Gender identity
Sexual orientation
Religion
Some graduate nursing programs include coursework to help you gain a familiarity with customs and practices that may differ from your own. In other cases, you may have to pursue information on diversity, equity, and inclusion yourself. Though this may be daunting, it is highly meaningful work to pursue, with the potential to enrich your abilities as a nurse to look out for patient needs.
Education and Training Opportunities for Graduate Nurses
Graduate nursing degree programs are available to those who already hold a Bachelor's of Science in Nursing (BSN) – in other words, to those who are already registered nurses.
If you are a registered nurse who is ready to become an advanced practitioner, good news: there are excellent graduate nursing programs all over the country, with many offerings available online.
These can give you the grounding you seek in mental health nursing while giving you the qualifications to level up professionally, with a salary to match.
Graduate nursing leadership programs and certifications
There are numerous options for graduate nursing degree programs that are designed to be tailored to your needs. These include both online and in-person models that can be taken part-time or full-time, with the latter option typically taking between two and three years. Some RNs decide to pursue their MSN while continuing to work, and there are programs that accommodate this rigorous schedule.
Graduate nursing degrees can have a variety of concentrations, some of which may overlap from one school to the next but under different names. These can include mental health nursing and holistic care. Those interested in psychiatric nursing can also find specialized programs to help you build that advanced body of knowledge.
For more information about graduate nursing programs, take a look at our Guide to APRN Programs, which includes comprehensive information about schools all over the country. This includes information about concentrations offered, tuition costs, program durations, and more. For a breakdown by state, you can take a look at our List of Advanced Nursing Schools by State here.
Continuing education courses and workshops on mental health care
If you are interested in learning about mental health support services but don't necessarily want to attend a full-blown graduate program, there are ways to enrich your practice that are far less time intensive. Many schools, nonprofit organizations, and even medical centers offer continuing education courses and workshops that can give you the building blocks of mental health nursing and holistic care. These will not necessarily give you the credentials to make you an authority on mental health needs, but they are an excellent choice for those interested in expanding their understanding of medicine.
Policy and Advocacy for Mental Health
Beyond their work on the ground in medical settings, registered nurses with a holistic healthcare orientation have the ability to act as advocates in the mental health field and the world at large. This is because they have the direct experience that can make them authorities on the myriad ways mental health treatment can improve patient outcomes.
Indeed, many who attend graduate nursing programs with holistic concentrations come to embrace the goal of contributing to broader changes in the way healthcare is administered. These advanced practitioner nurses are leaders in a movement that is taking off within the medical community, and their hard work is sure to usher in a new era of comprehensive healthcare for all.
Taking the next steps to getting a graduate nursing degree
If the above article has convinced you of the importance of holistic care in medicine, it's time to take the next steps to become a nurse specializing in mental health. Graduate nursing programs are the next step for working registered nurses who would like to expand their practices and rise in the ranks of their healthcare institution.
If you would like to learn more about the specific career paths available for advanced practitioners with a mental health or holistic focus, take a look at our career guide here.
For general information about nursing degrees, visit our homepage here.
FAQs
Do advanced practitioner registered nurses earn more than those without graduate degrees?
Generally speaking, yes. However, the Bureau of Labor Statistics does not specifically measure the wages of advanced practitioners, which means that there is no verifiable data to confirm this 100%. However, it is widely known that in hospitals, those with more advanced degrees are eligible for more skilled positions, which typically take larger salaries.
According to the BLS, registered nurses earn a median annual wage of $77,600 per year. Those in the top ten percent of earners – who are likely to be advanced practitioners – earn a median annual wage of $120,250.
Will I be eligible to become a therapist if I specialize in mental health nursing?
No. Counseling services and other forms of therapy typically require other graduate degrees, such as a Master's in Social Work. However, you will be able to employ therapeutic skills with your nursing patients.