<!- mfunc feat_school ->
Featured Programs:
Sponsored School(s)
Sponsored School(s)
All school search, finder, or match results, as well as colleges and universities displayed as "Featured School(s)" or "Sponsored Content" are advertisers that compensate us for placement on this site. The resources, editorial content, and school evaluations published on this site are developed independent of the schools that advertise here.
<!- /mfunc feat_school ->
As women look toward more natural options for prenatal care and the birthing process, the unique skills of certified nurse midwives (CNM) have become increasingly prized, by both the medical community and by expectant parents. Many women also look to nurse midwives to decrease their maternity care costs and to eliminate or reduce unnecessary medical intervention during the birthing process. Although expectant mothers often look to nurse midwives because of their desire to have a more natural birth within the home or in a birthing center, CNMs also work alongside hospital staff to provide a comprehensive level of care within the hospital setting.
According to the Midwives Alliance of North America, there are approximately 5,700 midwives and certified nurse-midwives in practice throughout the United States and Canada. The International Confederation of Midwives defines a midwife as a "responsible and accountable" person who works in partnership with women to provide them with the "necessary support, care and advice during pregnancy, labor and the postpartum period." The role of the midwife, as defined by the International Confederation of Midwives, also involves providing care for newborns and infants.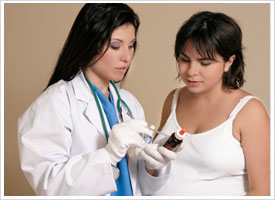 CNMs are Advanced Practice Nurses, CMs and CPMs are Not
All midwives must go through comprehensive training, but to earn national certification it is necessary to participate in programs recognized by independent certification agencies. The American Midwifery Certification Board (AMCB) is the national certifying body for Certified-Nurse Midwives and Certified Midwives, and maintains the certification standards required of state Boards of Nursing for advanced practice licensing in nurse-midwifery.
<!- mfunc search_btn -> <!- /mfunc search_btn ->
The AMCB offers the following certification options:
Certified Nurse-Midwife (CNM) – An advanced practice registered nurse who is trained in both nursing and midwifery. A certified nurse-midwife must possess a master's degree in nursing, at minimum, from an accredited institution and certification through the American College of Nurse Midwives.
Certified Midwife (CM) – A non-nursing professional who is trained in midwifery. A certified midwife must possess a bachelor's degree, at minimum, from an accredited institution and certification through the American College of Nurse Midwives.
Certified Nurse Midwives (CNM) can practice in any number of settings, including birth centers, hospitals, and health clinics. They may also provide at-home birth services. Many CNMs also go on to set up independent practices in their community of choice. They have legal authority to practice in every state where licensed, and hold prescriptive authority where granted by state Boards.
Certified Midwives (CM) are only recognized and legally permitted to practice in five states: New York, New Jersey, Delaware, Missouri and Rhode Island (CMs are licensed in New York, New Jersey and Rhode Island, authorized by permit to practice in Delaware and authorized to practice in Missouri). In addition, the CM professional only has prescriptive authority in the state of New York.
The Certified Professional Midwife (CPM) designation, granted by the North America Registry of Midwives (NARM), validates entry-level knowledge and skills necessary for midwifery practice, and is not suitable for advanced practice licensing.
The Role of the Certified Nurse Midwife
The certified nurse midwife, or CNM, is an individual who is educated and skilled in midwifery and nursing, and certified according to the requirements of the American College of Nurse-Midwives.
According the American College of Nurse-Midwives, the CNM must adhere to a philosophy of care, which includes:
Providing every patient with quality healthcare
Providing every patient with complete and accurate information so as to allow the patient to make the most informed healthcare decisions
Acting as an active participant in healthcare decisions
Involving all designated family members – to the extent desired by the expectant mother – in all healthcare experiences
The American College of Nurse-Midwives also defines a clear model of care for CNMs, which includes establishing and promoting a compassionate partnership with the woman and her family, and acknowledging each woman's life experiences and knowledge, which may include recognizing individualized methods of care and healing. The model of care also speaks to the use of skillful and meaningful communication and a calming presence.
The American Pregnancy Association notes that the model of care administered by nurse midwives is based on the fact that pregnancy and birth are normal life processes. As such, the nurse midwife provides the following care:
Monitors the physical, psychological and social well-being of the woman throughout her childbearing cycle
Provides education, counseling, prenatal care, postpartum support and continuous hands-on assistance to the mother
Minimizes technological intervention
Identifies and refers women who must receive obstetrical care
According to the American Pregnancy Association, the services that can be performed by a midwife vary according to certification and licensing credentials, as well as any state restrictions in which the midwife practices. It is widely accepted that certified nurse midwives, because they possess nursing licensure, can provide the most comprehensive care for women. Find more about what a midwife does here.
The unique level of care provided by nurse midwives is not limited to expectant mothers. In fact, many provide healthcare services to women throughout their lifetime. It is therefore not uncommon for nurse midwives to also perform physical exams, prescribe medication (when licensed with prescriptive authority), provide gynecological care, provide breastfeeding care and advice, and order laboratory tests and blood work, in addition to providing prenatal and labor care. Nurse midwives may also provide education and counseling services to women, their children, and their families.
<!- mfunc search_btn -> <!- /mfunc search_btn ->
Still need more information about what a midwife is, click here.
Educational Requirements for Certified Nurse Midwives
Students of nurse-midwifery usually major in nursing during their undergraduate study, as this offers the greatest number of professional opportunities later. The American College of Nurse Midwives notes that some programs offer accelerated nursing preparation in what are often referred to as bridge programs, allowing students to obtain their RN license while still in the program. Ordinarily, full-time students in these programs can expect to complete their undergraduate degree, as well as their graduate-level education and national certification in three years.
The American College of Nurse-Midwives accredits graduate level programs necessary to become certified and licensed in nurse-midwifery. All students of nurse-midwifery who enroll in accredited advanced nursing programs must first possess a bachelor's degree. All graduate level programs accredited by the Accreditation Commission for Midwifery Education (ACME) also require a bachelor's degree for entry, and 22 of the 39 ACME-accredited programs require applicants to hold a registered nurse license as a condition of entry.
State licensing Boards and national certifying agencies typically prefer that students with a bachelor's degree but no RN license attend a two-year nursing program and then apply for a position in an accredited nurse-midwifery program. Most programs offer traditional on-site campus learning, while a handful of programs currently offer online or distance learning options.
When applying for a nurse-midwifery program, students should pay close attention to other prerequisites, as some programs require students to have some experience with facilitating the labor and delivery process.
In addition to classroom learning, CNM programs offer clinical learning rotations both in and outside of the hospital setting. There are also a number of CNM programs that offer the option of pursuing international assignments for clinical experience rotations.
Upon completion of graduate level midwifery programs, students are usually awarded an MS specific to midwifery, or the more general Masters of Science in Nursing (MSN), and/or a Doctor of Nursing Practice (DNP) degree.
Upon graduation from an accredited program, individuals can then take the national certification exam offered by the American Midwifery Certification Board (AMCB) to become certified nurse midwives.
Re-entry into the Nurse-Midwifery Profession
Refresher programs are ideal for nurse-midwives who are interested in returning to clinical practice. The American College of Nurse Midwives (ACNM) Task Force oversees these refresher programs, setting all guidelines for re-entry into the profession. There are currently nine refresher midwifery programs located throughout the country.
There are three routes by which nurse-midwives can re-enter the profession, based on the number of years the professional has spent out of clinical practice:
Less than two years – An orientation through the midwifery practice (clinic, hospital, etc) the CNM will be joining is preferred
Two to five years – A full-scope clinical experience should be arranged through the use of continuing education modules or didactic education through a midwifery program
More than five years – An accredited midwifery educational program, as well as clinical experience must be undertaken
According to the American Midwifery Certification Board (AMCB), upon completion of one of the above plans, the sponsoring program should be able to verify that the nurse-midwife is at a "safe beginning practitioner level."
Salary Expectations for Certified Nurse Midwives
The salary for a CNM can vary widely based on a number of factors, including geographic region and level of experience. Other variables include the practice setting (e.g., private practice, hospital, birth center, health clinic, home births) and the type of care provided (e.g., prenatal care, gynecological care, etc.)
According to the United States Department of Labor, Bureau of Labor Statistics, the broad classification for registered nurses, which is inclusive of all RN types, shows a national average annual salary of $67,720 as of May 2010. This is recognized as a figure that is skewed lower by the inclusion of non-advanced practice RNs.
The states with the highest level of employment at that time were California, Texas, New York, Florida and Pennsylvania. The highest average salaries for this occupation at that time were found in California ($87,480), Massachusetts ($84,990), Hawaii ($82,130), Maryland ($76,450), and Alaska ($79,350).
<!- mfunc search_btn -> <!- /mfunc search_btn ->
The American College of Nurse-Midwives, in their ACNM Compensation and Benefits Survey, 2007 (the most recent statistics available) reported the mean annual salary for certified nurse midwives to be between $79,093 and $89,916.
The ACNM Compensation and Benefits Survey, 2007, also reported that the largest employers of certified nurse-midwives were hospital/medical centers (32.7 percent), physician practices (30.5 percent), community health centers (8.5 percent), academic institutions (8.4 percent), government/military institutions (3.6 percent), and midwifery clinics (3.1 percent). Less than 4 percent of nurse-midwives owned their own practice during this time.
Resources for Certified Nurse Midwives
The Accreditation Commission for Midwifery Education (ACME) is an accrediting agency for nurse-midwifery education programs that has been recognized by the U.S. Department of Education.
The American Midwifery Certification Board (AMCB) is the national certifying body for Certified-Nurse Midwives and Certified Midwives. According to the AMCB, this certification is a "critical aspect of professional quality assurance" for midwives. The National Commission for Certifying Agencies (NCCA) granted accreditation to the Certified Nurse-Midwife and the Certified Midwife certification programs administered by the AMCB.
The Midwifery Education Accreditation Council (MEAC) is a federally recognized accrediting agency that is approved by the U.S. Department of Education. MEAC has developed standards and criteria for education in out-of-hospital midwifery care that reflect the standards and principles set forth by the Midwives Alliance of North American.
The North American Registry of Midwives (NARM) is an international certification agency that administers certification for the credential of "Certified Professional Midwife." CPM certification validates entry-level knowledge and skills necessary for midwifery practice.
American College of Nurse-Midwives (ACNM) is designed to develop and support midwifery that is practiced by CNMs and CMs.
View the History of Nurse-Midwifery Infographic.