<!- mfunc feat_school ->
Featured Programs:
Sponsored School(s)
Sponsored School(s)
All school search, finder, or match results, as well as colleges and universities displayed as "Featured School(s)" or "Sponsored Content" are advertisers that compensate us for placement on this site. The resources, editorial content, and school evaluations published on this site are developed independent of the schools that advertise here.
<!- /mfunc feat_school ->
There's no doubt about it, COVID-19 has changed the lives of everyone on the front lines of healthcare. It's also shaken up the industry in some profound ways, and those tremors will be felt for a very long time. For APRNs in some hold-out states that still prohibit independent practice without a collaborative agreement, something positive may end up coming out of all this.
You see, the situation on the clinic floors of hospitals around the country became so urgent that some of those hold-out states made the decision to temporarily waive independent practice restrictions in a desperate attempt to release some of the pressure that was building in overwhelmed ERs and ICUs.
Could this foreshadow a turning point in advanced practice nursing?
What Exactly is the Debate Over Independent Practice Vs Collaborate Practice Agreements?
The purpose of practice agreements between physicians and APRNs is to outline their working relationship, giving the physician the final say on a lot of clinical decision-making, patient diagnoses, and the big one of course, writing prescriptions for controlled substances.
For those who support independent practice for APRNs, the whole process just looks like an unnecessary hoop to jump through that restricts autonomy and the ability for APRNs to practice and prescribe independently within the full scope of their education and training.
So, Which States Have Temporarily Waived Practice Agreements in Response to COVID?
As of August, state laws requiring a collaborate agreement have been suspended in Wisconsin, Louisiana, Kentucky, Virginia and New Jersey. Under emergency orders, nurse practitioners and other APRNs in these states are now being allowed more autonomy to practice and prescribe withing their scope of knowledge and training than ever before.
<!- mfunc search_btn -> <!- /mfunc search_btn ->
This is a new frontier for advanced practice nursing. Even RNs in these states looking to make the leap to NP are tracking the developments closely to see if it will be able to be applied more broadly moving forward.
Could This Make Advanced Practice a More Attractive Option for RNs Looking to Move From the Frontlines to Primary Care?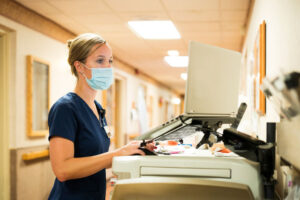 Even RNs and other nurses who aren't working in advanced practice roles are increasingly craving more autonomy, respect, and of course, knowledge as we add years and specialties to our resumes. Many of us are embarking on varied pathways through the hospital hallways in the course of a normal day already, and when you do that, you can't help but start to think about which specialty would be a good one to make the big leap towards.
Coming out of nursing school, I was convinced I wanted to do ICU and ER forever. I wanted to hold space for people on the toughest days of their lives, learn the function of every receptor known in the human body and use the entire continuum between those to save lives.
As my years of being a nurse have waxed, the naïve days of nursing school when I didn't believe that patients would hit me and call me names are now long gone.
There are some days when I can walk into my ED donning my imaginary Katniss Everdeen cape, believing that my kindness, efficiency, fortitude, fervor for patient advocacy and knowledge are going to save patients' lives. And sometimes, that cape of attributes never comes off.
But there are other days when it seems that I am just not enough… I need to be 4 humans and I'm only one. I need to be empathetic to the patient with a 1 cm cut on her leg that is in the bed in front of me, but I am still gripped in the secondary trauma of the 46-year-old we just coded and couldn't save. The sobs of her partner still ringing in my ears while we punched on her chest and slammed vial after vial of Epinephrine.
During the emotional hangovers following days like those, I replay all the ways I could have done better: deeper compressions, been faster at retrieving supplies or not fumbled on a syringe. Because time is brain. And time is heart. And every second in a critical situation matters and perfectionism under the gun feels like the only option.
But perfectionism isn't a sustainable goal. Every healthcare worker I've known struggles with this paradox.
I want to be able to help people before they are screaming into an ED because the problems they've known were there for years have snowballed into a mess they can no longer ignore. I want to be part of the solution to people getting the help they need and to be fierce in gifting people education so that there are less people being met by healthcare professionals for the first time in a trauma bay because they had a massive heart attack while driving.
Could More Former RNs Transitioning to Primary Care Mean New Possibilities for the Future of Healthcare?
Maybe I'm too much of an optimist to believe that progressive change in healthcare is reasonable. But I'm too hungry to succumb to that. It's one of the reasons I became a nurse – to identify the most pressing problems and try to fix them. As a bedside nurse, I don't have the appropriate credentials or position to have an effect on the policy side of things, which is where large scale change need to begin. And I don't have the ability yet to work in primary care where those policy changes can help with delivering more in the way of preventative care. Instead, I'm making steps in moving forward to grow my skills and knowledge and use those as my weapons in the fight to make healthcare more therapeutic.
News about the waived practice agreements is exciting on multiple fronts, but largely because it points to territory that may become more commonplace for nurse practitioners in the coming years given the growing shortage of providers.
Nurses that have experience on the front lines are vital to the future of medicine as our time in patient care gives us invaluable insights into patient assessment beyond the physical body. That makes us adept at integrating that intangible sense of knowing when "something just isn't right" with a patient.
Bedsides, nurses that become providers also have the drive to advocate, and that drive is woven into our fabric during years of ensuring patient safety when administering medication, bearing witness to patient triumphs and tragedies, and holding that sacred space while they navigate new and old challenges alike.
<!- mfunc search_btn -> <!- /mfunc search_btn ->
The ability, then, to have more autonomy and position to fiercely advocate not only for individual patients but for policy change and to tear down barriers to necessary care, has the potential to revolutionize patient care.
There is no disputing that nurses see it all. But seeing without being able to integrate our experiences into changing lives on a larger scale doesn't even remotely harness our power for positive change in healthcare.
I'm excited to see where the pioneering practitioners and lawmakers in states that have been courageous enough to suspend collaborative practice agreements boldly choose to go.