The American Academy of Nurse Practitioners (AANP) conducted their 3rd annual nurse practitioner salary survey in 2011, which revealed a salary range of between $83,000 and $107,000 reported as annual base salaries among full-time NPs. Income varied most by area of specialty and work setting, with the highest salaries reported in the respective categories as follows:
By specialty area – Neonatal and Psychiatry/Mental Health
By geographical region – Western, Southwestern, New England, and Mideastern states
By practice setting – Emergency Department and Veteran's Administration facilities
The survey showed an overall trend toward increasing salaries among nurse practitioners, even in the years since the economic downturn that began in 2008. It also revealed that 31% of those working full-time received additional bonus compensation based on practice revenue, outcome measures, and the volume of patient encounters.
The publishers of Advance for NPs and PAs, a peer-reviewed journal for nurse practitioners and physician assistants, conducts an annual salary survey that provides a report of full-time annual salary and part-time hourly rates by practice setting and patient population. They also compare salaries, either annually or biennially, beginning with the year 2001. The good news is that the average full-time salary among nurse practitioners increased more than $27,000 between 2001 and 2011, with the 2011 salary average reported to be $90,583.
Even during the economic volatility of recent years, the average part-time hourly rate paid to non-salaried nurse practitioners increased by nearly $4 per hour between 2010 and 2011.
According to the 2011 survey, emergency department practitioners were the highest paid, earning an average of more than $103,000 per year.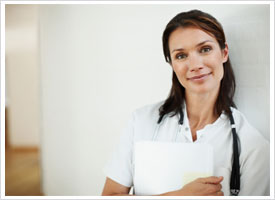 Nurse practitioners working in cardiology clinics, oncology clinics, hospitals, retail clinics, and neonatal units; and those that worked in the specialty areas of surgery, mental health, or gerontology earned average salaries that fell within the $90,000 to $99,000 range. Mental health NPs reported the highest average part-time hourly rate, at nearly $65 per hour.
In addition to salary, full-time NPs report a wide variety of benefits including bonus pay; vacation and sick leave pay; allowances for education, journals, and professional dues; retirement plans, and a wide variety of insurance plan options.

Nurse Practitioner Salaries By State
Certified Nurse Midwife Salary
In the most recent ACNM Compensation and Benefits Survey, 2007 , The American College of Nurse-Midwives, revealed the average annual salary for APRNs in the certified nurse midwife role to be between $79,093 and $89,916.
Certified Registered Nurse Anesthetist Salary
Certified Registered Nurse Anesthetists are consistently the highest paid among advanced practice registered nurses. According to the 2011 AMGA Medical Group Compensation Survey, the median CRNA salary in the United States was $157,724.